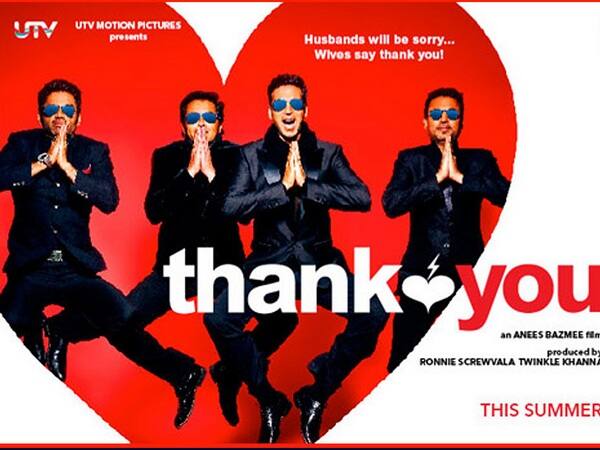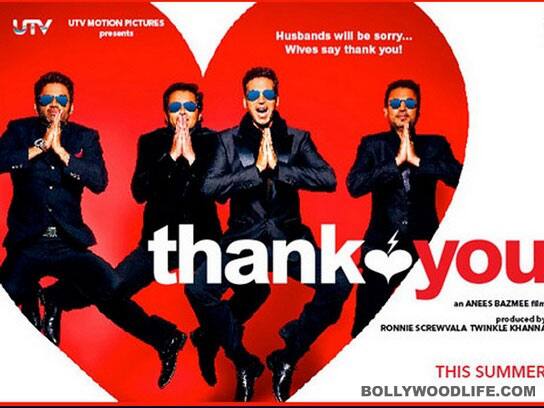 There is no point dissing a Bazmee film, it's far too easy. The only positive here is the wonderful Irrfan Khan, who has the best lines
Ac-Cent-Tchu-Ate the Positive, goes the popular, oft-recorded song. It is a well-known fact that Anees Bazmee makes films that are an assault on the intelligence, so what if some of them have been big hits, like say, Singh Is Kinng. That film at least was coherent, but that's because it was shamelessly heisted from Jackie Chan's Miracles, itself a (legal) remake of Frank Capra's Pocketful of Miracles.
But, I digress, not without reason, because while watching Bazmee's latest effort Thank You, the mind tends to wander far and wide and more germane matters like whether now is a good time to commit suicide, the price of vegetables, whether we care about the IPL after a World Cup win, the no fly zone in Libya – you get the drift (pun intended) – take precedence in your thoughts.
For, the onscreen proceedings, cooked up by a team of four writers, led by the redoubtable Bazmee, are stultifying and just plain old boring. The old saying, 100 monkeys and a 100 typewriters, etc. comes to mind.
So, the plot has Bobby Deol, Irrfan Khan and Suniel Shetty who serially philander, much to the despair of their wives Sonam Kapoor, Rimi Sen and Celina Jaitley respectively. Akshay Kumar plays a flute-playing private eye (named Kishan, in case you missed the point, though I don't think there is, in fact, a point) who everybody turns to for help.
So, back to where we began, i.e. accentuating the positive. There is no point dissing a Bazmee film, it's far too easy. The only positive here is the wonderful Irrfan. As an overbearing, shrewd and sarcastic husband, Irrfan has the best lines in this otherwise non-comedy and delivers them with impeccable comic timing and thereby reaps the reward of getting the only laughs from the audience.
To be fair, every comic act needs someone to play off and Rimi makes an ideal foil, though she's reduced to making faces in her scenes with the other actors, nay people who appear on screen. For describing them as actors would be to do Irrfan a disservice. I think it's all part of a cunning plan hatched by Irrfan where he takes time off from more challenging roles in The Life of Pi or The Namesake and decides to appear in the occasional Bollywood film where he is surrounded by dross and thereby looks good. Apart from him, the rest of the cast run around Vancouver screaming shrilly. And Mallika Sherawat makes an appearance in a woeful item number, something to do with a Razia desecrated by gundas. Speaking of desecration, Pritam does it to Kalyanji-Anandji's Pyar Do Pyar Lo in the film.
As for the rest of the film, let's put it this way – Vidya Balan appears in a cameo at the end of Thank You and promptly slits her wrists, while we long to do the same, or at least live in the hope that Bazmee and the others behind this sorry farrago do a Vidya.