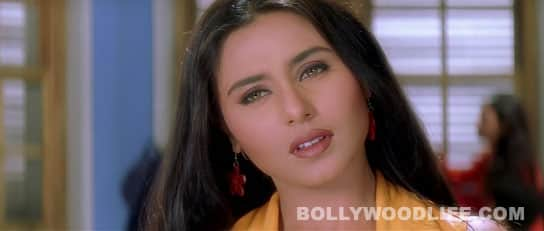 Rani Mukherjee shone in the most unwanted cameo
Rani Mukherjee, along with her baby fat, fit quite snugly in the role of Tina in Kuch Kuch Hota Hai. When you watch the movie that rocketed this undiscovered Mukerjee cousin to success on YouTube Boxoffice, you can hardly imagine anyone else being Tina. But she wasn't the original choice. Karan Johar later revealed that the role was sketched for Twinkle Khanna (and hence the name Tina), who turned it down. Maybe playing a supporting role didn't sit well with this twinkling star? After Twinkle, Tabu, Shilpa Shetty, Urmila Matondkar, Aishwarya Rai, Raveena Tandon and Karishma Kapoor also wriggled out of this offer citing various reasons. Then the role was offered to Rani Mukherjee. The official version is that Shahrukh saw her debut film Raja Ki Aaayegi Baaraat and recommended her to Karan, although we've heard that Rani walked upto KJo and said that she was the only one who will do justice to this role. It was a time when she was quite new in the industry, with even Ghulam yet to release. Rani later said that one of the reasons the other ladies had rejected the offer was that no one wanted to play a mother this early in their career. Rani had no such qualms. She made the most of this opportunity, and went on to win the Filmfare Award for Best Supporting Actress for her efforts.
Catch Rani Mukherjee's new look! Click here to watch complete movie Kuch Kuch Hota Hai!