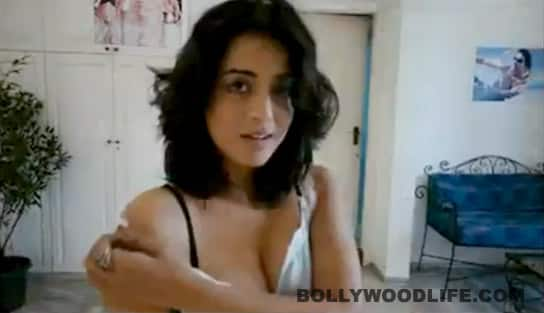 RGV releases a new promo song of his film Not a Love Story titled: Rangeela – Erotic Version
The maverick filmmaker's latest is up for release this week and it seems like he is leaving no stone unturned to make it talked about. And if the shocking theatrical promo was not enough, the director has just released an erotic version of the Rangeela song from the film to woo the crowds.
The buzz doing the rounds is that the RGV of Satya and Company is back with Not a Love Story, as an excited Anurag Kashyap (once RGV foe, now friend) tweeted late last night, saying, "Spoke to some not so easy to please people and they all uniformly love #NotALoveStory. Seems like @rgvzoomin is back and with a roar." While we are eager to see if what Kashyap said is really true, we are also disappointed by the wannabe erotic video that Ramu has shot with Mahie Gill. What also struck us was that if RGV really wanted erotica, why did he not pick the Haaye Raama song from his film Rangeela, as wethinks it would have worked even better. The title track of Rangeela doesn't lend itself to any erotic situation and Mahie trying really hard to seduce is cringe-worthy. She did way better in Kashyap's Dev.D without exposing even a bit of excess skin. The so-called 'erotic' promo seems more like a home video of a struggling actress getting ready for the casting couch! Let's see what RGV has in store for audiences in Not A Love Story.