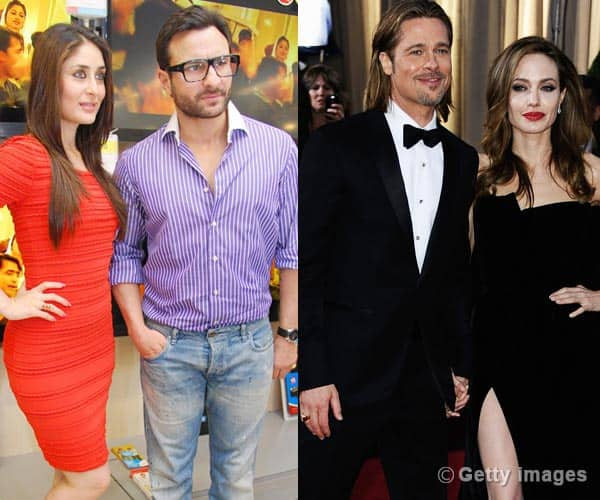 At least, that's what Brad Pitt would want us to think when asked about Kareena Kapoor-Saif Ali Khan and their impending marriage. And here's why
Saif Ali Khan and Kareena Kapoor's pairing – popularly called Saifeena – is Bollywood's answer to Hollywood's famous couple Brad Pitt and Angelina Jolie aka Brangelina; at least, some fans would like to believe so. Why? Because first of all, their names rhyme (how lame!), and second, because they are the 'it' couple in their respective industries and third (and last, we promise!), because Saifeena and Brangelina are both in the news for their soon-to-be shaadis.
Now does that really make them similar? Pitt begs to differ. "No two individuals in a relationship can be the same as another, so I don't know if it is correct to compare them to us," the Mister from Mr & Mrs Smith says. Sigh!
But that doesn't stop him from sending his good wishes to the Nawab and his to-be Begum. "I am glad they will soon be getting married and I wish them all the luck and a beautiful life ahead," Pitt said. Awwww. Cho chweet!
Dear Brad, we too would've have been tempted to compare your relationship with that of Saifeena's. But with Saif and Kareena (finally) deciding upon their wedding date – unlike you and your ladylove – we're not sure if comparing the two relationships would be right. And plus there are all those children involved. Do you agree, BollywoodLifers?
PS: One thing though – does Mr Pitt really know who these people called Saif and Kareena are? Or was he being polite when asked that leading question about shaadi-vaadi? Our wicked bone makes us wonder…