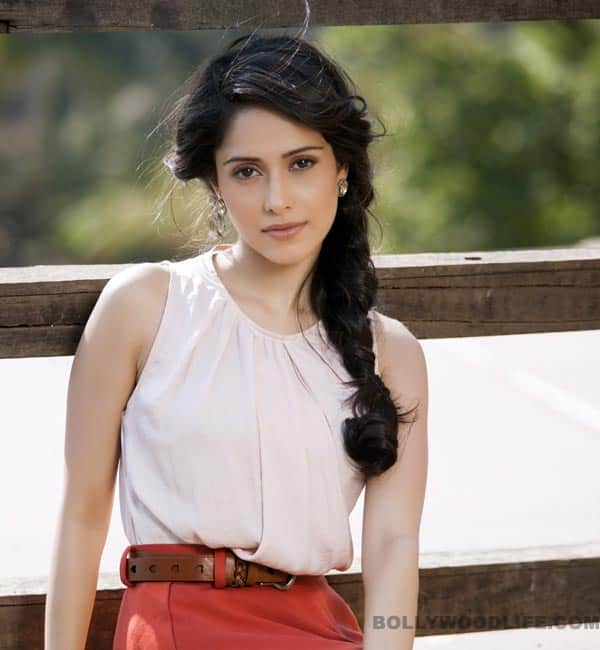 The babe talks about her future films, the love –hate relationship she shares with Pyaar Ka Punchnama dude Kartik Tiwari and a lot more…
After stepping into the shoes of a 'puckering her nose up' at virtually everything kinda girl in Pyaar Ka Punchnama, Nushrat Bharucha is all set to endow her fans with spine chilling moments in her next scary flick. But she confesses that watching or being a part of anything that screams and screeches 'horror' gives her the heebie-jeebies. So how come her next venture is about entering a zone she dares not tread, not even in her wildest dreams? Nushrat tells you all about that and a tad more – from facing difficulties 'coz of being short to how she shudders at the thought of indulging in hard-core theatre
So are you playing the same snooty chick in Pyaar Ka Punchnama 2?
I don't know what I am going to play. That's something that still to be finalised. No character briefing has been given to me yet.
You have a strong theatre background, so tell us, is acting on stage way more difficult than acting on celluloid? 
I think it's 100 percent true. I don't have a very strong theatre background, but my dad has done a lot of theatre in Prithvi. His sensibilities paved the way for me to do what I wanted to do. I have attended a lot of workshops, and I have simply come to one conclusion – that this is something I can't do. I am petrified of going live on stage for two and a half hours, playing the character, especially when people are sitting just five inches away from you and you don't a miss a single expression of theirs. It's scary.
Isn't that a challenge?
I would definitely try it out some day. I don't think I am prepared yet. It takes a lot of hard work.
You have done two films with Kartik Tiwari – PKP and Akaash Vani – tell us something about the transformations that have taken place in your off-screen rapport and what fireworks we should expect from the two of you in PKP 2…
Nobody lives in isolation. You put two people together and they will start talking. I and Kartik have known each other for two years now and we have literally lived both our characters. We were put together everywhere, be it in while watching films, partying or going to a birthday gathering together. So when you are going to be with someone for so long, there is obviously some kinda friendship that's bound to happen. I and Kartik share a love-hate relationship. What I like about him that there's absolutely no pretence on his part.
Not many people know that your first film is not Pyaar Ka Punchnama. How did your journey begin in Bollywood?
I started with doing small ads. My first ad was with Asin. At that point I never thought I would become an actor. From there I finished my education. In fact, while I was studying, I was doing a TV show on Zee. When I was a part of the small screen, I realised it wasn't my cup of tea. I left TV, went back and finished my studies and came back only to do films.
Have people ever stereotyped you?  
That happened to me after I did Love Sex aur Dhokha. Post LSD, people thought I can't do anything beyond playing the character of a girl next door. When PKP was narrated to me, I thought I am not cut out for it. And that's when I realised that everyone has been saying the same thing. I had started judging myself – so all this somehow broke the stereotype I had in my head as well.
But isn't it getting monotonous, being a part of the same ol' romantic flicks?
Well…which is why you will see me in a horror flick next! I have chosen to again do something I thought I can't do. And also, I am a petrified of horror films. Whenever I watch one in the theatre, I kinda hide my face out of fear.
Any recent performance that has completely mesmerised you…
Vidya Balan in Ishqiya. The character – it's simple, it's powerful and it's got so much grey. That's one role I think I would have taken up without thinking twice.
What's your personal style statement?
There is only one thing about style that I find extremely painful – wearing heels. I don't think too much; I leave that section of my life to my stylist. My only brief to my stylist most of the time is, let's choose something I haven't worn or tried before.
If you had a chance, what's the one thing you would change about the way love stories are depicted in Bollywood?
There is so much to love than just the mushy and the teary side. I want to do away with the clichéd aspects of romance. If there's a grey side to love, I would like to explore that.
Anything you think might go against you becoming from one of the best actors of B-town?
I haven't made a personal analysis as such. But there's one thing a lot of people have said time and again – the issue of not being too tall. For me, the camera can make anything small or big. You can manipulate the frame. But for a lot of projects, people in the industry have hinted that they associate being short with being not too glamorous.
Also read: Nushrat Bharucha and Kartik Tiwari get naughty