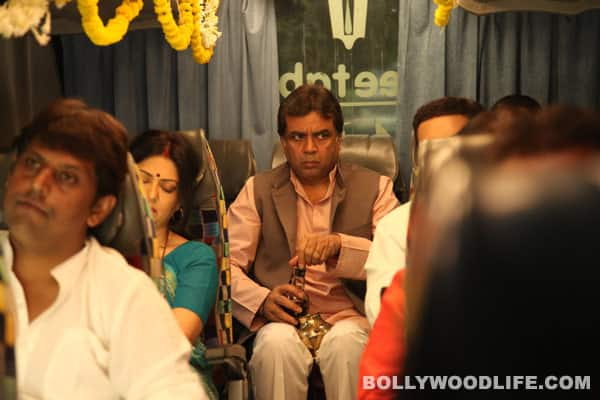 Funny men Paresh Rawal and Akshay Kumar made us giggle relentlessly with their comic timing in Priyadarshan's Hera Pheri and now the duo is all set to tickle our collective funny bone once again with witty one-liners in their new film OMG! Oh My God. Take a listen
There are very few actors in Bollywood who can make us laugh the way the veteran actor Paresh Rawal does. His impossible-to-clone myriad expressions and amazing comic timing is a treat to watch. Pair him up with Akshay Kumar and the fun gets amplified a hundred times over.
In his latest film OMG! Oh My God, director Umesh Shukla has got the duo portraying unusual characters. But what is even more interesting is the funny lines Akki and Rawal say in this comic flick. Akki is playing the part of Lord Krishna who descends on the earth to meet Rawal, who is playing the role of a man selling pictures and idols of Hindu deities, despite being an atheist.
Watch the hilarious fight between the non-believers and the god himself as Paresh's character Kanjibhai wages a legal battle against the all mighty. Will Akki's Lord Krishna manage to carve a place in Kanjibhai's heart? Or will the business-minded Kanjibhai continue to create troubles for the lord with his ever-scheming mind?
The fight is going to get hilarious. We are sure you can't wait to watch the film to find out who wins the battle in the end. But until the film hits the theatres near you, enjoy these funny dialogues to get a hint of what to expect from this entertainer!
[jwplayer mediaid="147085″]
So before the fun begins, we tried to convert the witty dialogues of the film into English. Unfortunately, they got somewhat lost in translation…
Pehle toh log thaali main dhak kar rakh ke jaate they ab toh mooh tak leke jaa rahein hain. Chaatne de, chaatne de!
Before people in a plate would close it and leave it, but now they are taking it near the mouth. Lick it, lick it!
Uske upwaas rakhne semere paap kaise dhul sakte hain? Yeh toh wahi baat ho gayi ki phone tera charging pe laga hain aur battery meri charge ho rahi hain
When she keeps the fast how will sins get washed? It's like her phone has been kept on charge and my batteries are getting charged.
Ab aap logon ko jitni puja karni ho, jitna ghanta hilana ho, sab hila lijiye aap. Main tumhare bhagwaan par case karunga!
Now you people however much you want to worship and shake the bell, you can do it! I will start a case on your god.
ALSO READ: Will Akshay Kumar act in the Marathi movie 72 Mail?