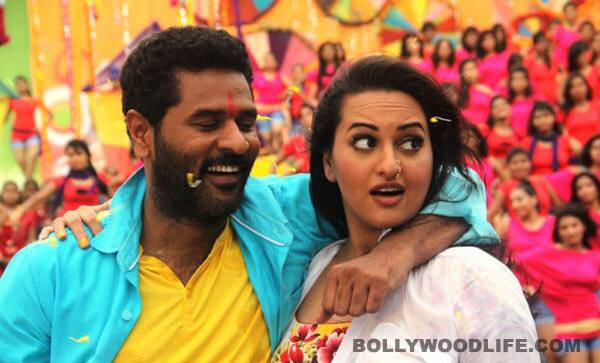 Sounds bizarre, right? But that's the song on which Prabhu Deva and Sonakshi Sinha matched steps
When we heard the song Go go Govinda from Akshay Kumar-Sonakshi Sinha starrer OMG! Oh My God we liked it. Why, it has a fast paced rhythm with all beats in place, no? But have a look at its angrezi translation and we're sure it won't make too much sense to you. Sigh! Still, we managed to tap the competitive spirit that the song portrayed. So go ahead, and get your comparisons right!
Atke matke jhatke maare hai
Stranded pots jerks (we) are hitting (Whatever does that mean!)
Tu aaj shola toh hum bhi fuwaare hain
You today burning coals then we also water fountain are (How, er, smart!)
Tu asmaan pe toh chaand taare hain hum
You on sky then moon stars are we (now that's competitive, no?)
Chaahe dum nikle yeh dum
Wanting life force leaving this life force (that's suicidal!)
Hai kasam teri kasam
Is swear your swear (Eh?)
Tujhe aaj chhodenge naa hum
You today leaving not us (Now that's a threat. BHAAGO! Run!)
Go go go Govinda
Ahem ahem. Actor Govinda wouldn't really like listening to that, no?
ALSO READ: