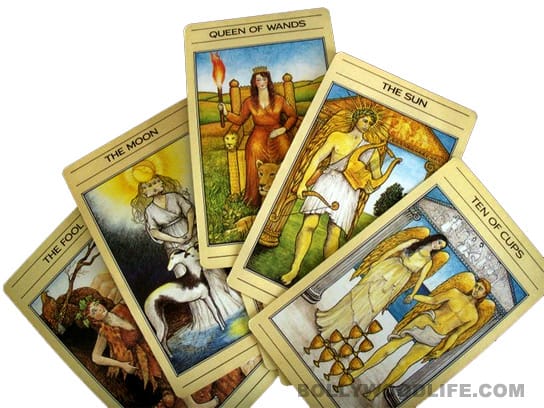 Check out what the Tarot cards have to say in our brand new Tarot column
Our question for this week is 'Does India have a future at the Oscars?' Being a general question, the reading had to be broken down into four parts. The first set of cards were picked for an overall view, the second set was for the chances of mainstream Bollywood, the third for an independent film and the fourth was for the Indian filmmakers' perception of Oscars – where it is now and what direction it's heading in.
There is a future Oscar waiting for an Indian film. The World & Magician card represents a country that is eager to showcase its abundant talents; clearly explaining the fame and fortune that exists for us. But there's so much to understand before we even get to the stage of winning one, especially since the Ten of Swords shows unnecessary hard work because of improper planning. These cards further clarify that there is no real understanding on how to choose the right film and how to promote the chosen film.
There is disillusionment of the real hard work and money goes into this and the practicality need to push these films doesn't seem to exist. I might just be sounding too pessimistic and you would probably wonder how my first statement makes any sense! The Six of Wands is a card of victory, but it is weakened by its supporting card of the Moon, which indicates that actions don't transpire smoothly. Hence, there is a possibility that a film will come very close and it'll be a near miss. But an important learning curve will follow. Very similar to what happened in the case of Lagaan and it seems that no learning has come from that experience yet.
A mainstream Bollywood film and an Independent film will both have the capability of winning an Oscar, but the difference will be in the approach. The Bollywood film will go with an expectation, almost with an air of arrogance represented by the Empress & the Magician. On the other hand, the independent film will be like the Fool, who will just go into the Oscars, oblivious of its real potential – picking up momentum later and surprising a few. The key for both will be to address the basics correctly, have a good game plan and be humble through all the entire process.
2014 and 2015 are more promising years for India at the Oscars. This win will change the perception of Indian cinema. Its steady and intelligent growth will be respected, as is indicated by the wise Hermit. So I guess we will get there eventually!
Go to new page with link to Our Tarot Reader, Shruti Chopra . Learn more…