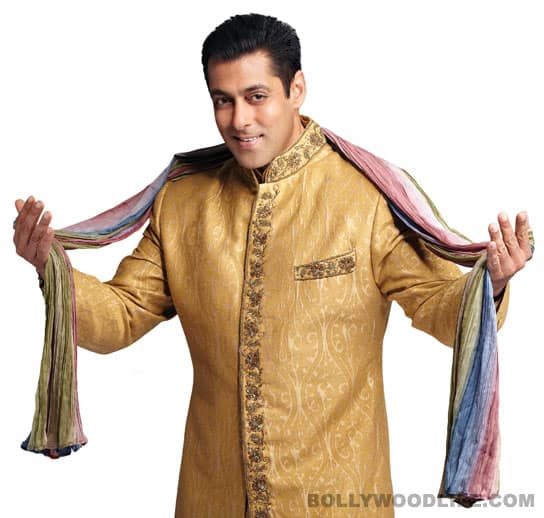 The whole world wants to know when Salman will tie the knot. Our Tarot reader tells you how and when it will happen
This is a question that deals with emotions, desires and set human patterns. Therefore two sets of cards had to be picked out to answer it. The first set is to understand if Salman Khan will get married, and the second is to see his current mindset towards relationships.
Salman is represented (through the cards) by the Page of Swords and the King of Pentacles – two very different qualities. The Page represents the young boy in him, aloof and not focused, yet has a feminine desire within to care with all his heart. But currently, he's showing the side of the King of Pentacles that finds it easier to bury his emotions under a lot of mental activity. He keeps himself preoccupied with his work – it dominates his life.
He loves to love and gives with all his heart, but with the Hierophant towering above him, he finds it hard to follow the norm in loving. There's a part of him that doesn't understand these rules. Salman does it the way it comes most naturally to him, which means that he's often misunderstood.
Recently, he has been through disappointments in love, making him apprehensive of getting involved in a relationship. Luckily, this is just a transitional phase. He will soon let go and will build new foundations and look at life as a new day. These changes, explained by the World and the Death card are so positive that it will bring out the more mature kind of young boy in him! Salman will happily rise up and begin again without any restrictions, he will be a refined person – his natural self again.
So will he get married? Yes he will! The beautiful Empress exudes the presence of a strong, mature and feminine woman. She will be well respected, but authoritative in her own loving and nurturing way. She will understand the childlike qualities in him and his open heart. So, yes there is someone special out there for him, but the mature boy within will encourage him to take it slower this time.
2013 brings with it some major changes for Salman, one of which will be the high possibilities of a positive growth in his relationship culminating to marriage.
Go to new page with link to Our Tarot Reader, Shruti Chopra. Learn more…
ALSO READ: