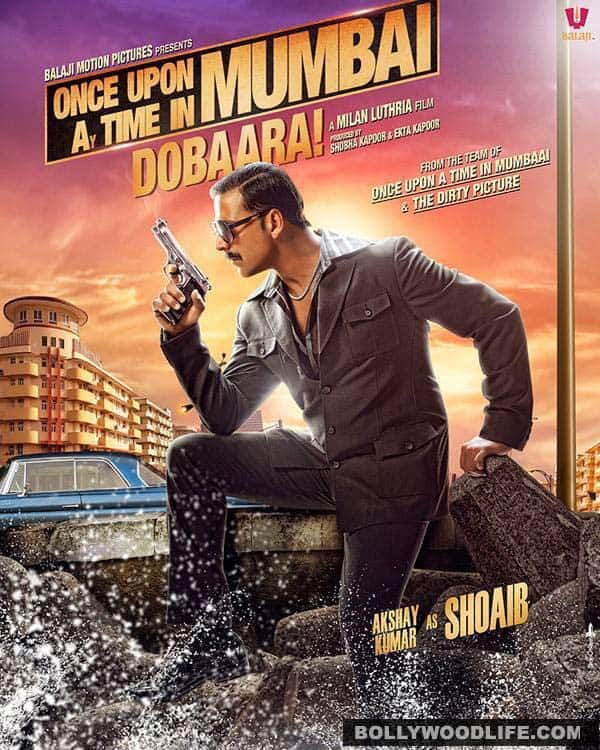 Milan Luthria's lame attempt to recreate and better his original 2010 hit film bites the dust
The Akshay Kumar-Imran Khan-Sonakshi Sinha starrer Once Upon A Time In Mumbai Dobaara is an excruciating experience. Considering Milan Luthria's second instalment of his gangster flick has been riding high on good hype, Akshay Kumar's star power and the fact that it's a sequel to the 2010 hit film starring Ajay Devgn and Emraan Hashmi, I consciously made up my mind to enter the cinema hall with no preconceived notions.
After being completely besotted with Ajay-Emraan's game of one-upmanship, dumdaar screenplay and dhaansu dialogue baazi in the first film, I expected an equal dosage of the same from Shoaib (Akshay Kumar) and his subordinate Aslam (Imran Khan), if not more, in this new one. But unfortunately, much to my dismay Luthria, dialogue writer Rajat Arora and producers Balaji Motion Pictures have left me disappointed…. big time.
The comparisons between Luthria's two representations of the underworld and its ruling dons based in Mumbai are inevitable. While Ajay was superlative as Sultan Mirza, Akshay as Shoaib, the new ruling mafiosi, is as overbearing as his character demands he be. Emraan Hashmi's quest to outdo his mentor Mirza was effectively portrayed by the versatile actor whereas Imran is a total misfit as a gangster who prefers to stay loyal to his guardian Shoaib, even after getting beaten up by him in the climax for snatching away his ladylove Jasmine (Sonakshi Sinha). The Lootera actor is good, as she invariably is, but has very little scope for showing off her talent.
Milan has lost his finesse this time simply because more importance is given to glorifying the movie version of the dreaded gangster than actually showcasing his struggle to become the most feared underworld don. We have to wonder – with a giggle – which hardcore and ruthless criminal on earth would churn out one-liners at breathtaking speed while communicating with his colleagues, as Akshay does in this film. The sequel is painfully over-long and silly. So we strongly recommend that our readers watch the original instead of this two hour-plus unbearable mess Luthria calls a film! As for me, if I see a movie like this dobaara, mera profession bura maan jayega!
Rating:
out of 5
Reviewed by Dhiren Trivedi
* Poor
** Average
*** Good
**** Very good
***** Excellent