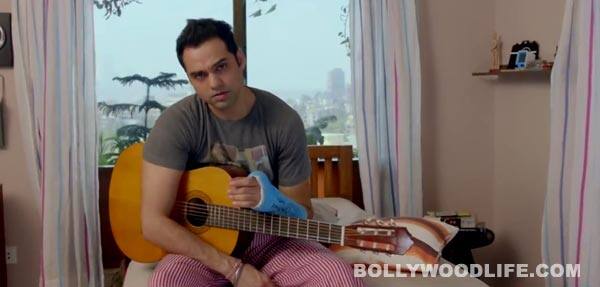 The actor-producer's antics throws us in the mood of retrospection and the lyrics help us establish the connect
Abhay Deol's character Amit Sharma is bored with his life, his job, his girlfriend, the constant advice everyone keeps giving him… Basically, he is pakaoed with everything that's happening in his life! Well, what better way than screaming your annoyance out loud? Right peeps!
The song portrays his frustration with life on every stage as he bashes the computer at work, sees his girlfriend romancing someone else and finds himself waking up wearing a chaddi over his head. Everything that he tries to do, turns out to be a complete mess. I'm just pakaoed unfolds an event where the ladkiwale have come down to see the prospective groom and at this precise juncture of his life, Amit Sharma (Abhay Deol) completes loses it.The frustration vents out in the form of this song, where he comes out wearing boxers with a guitar in his hand and the lyrics explain everything that's going wrong in his life.
The lyrics, by Amitabh Bhattacharya, are the best part of the song because they convince you that basically poor Amit is disinterested, bored, frustrated and fed up with his life. Abhay Deol convinces you as the geek who does everything right and yet, is left out of all the fun! Shankar Ehsaan Loy's music is rocking with the high lead guitar strumming throughout the song. One by Two, directed by Devika Bhagat and co-produced by Amit Kapoor and Abhay Deol releases on February 7, 2014.
Go ahead and watch Abhay Deol in I'm just pakaoed as we would definitely want to watch more of the frustrated Amit Sharma, wouldn't you peeps?