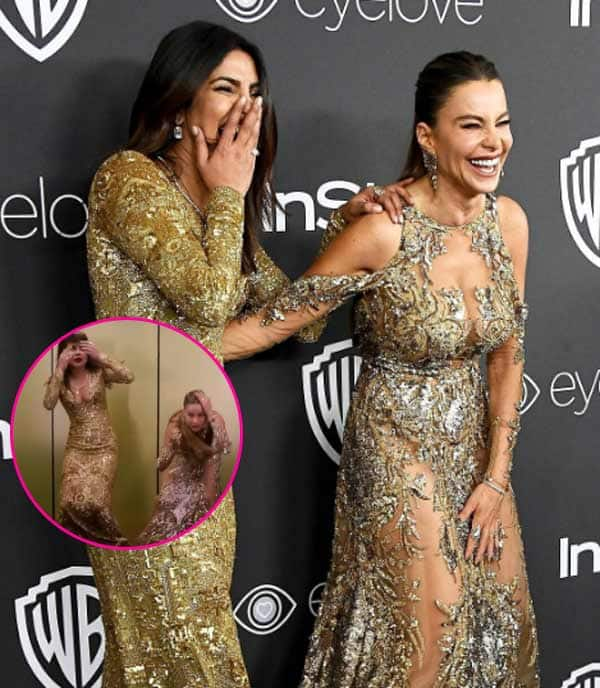 Priyanka Chopra is slayin' it at the Golden Globes 2017. She is making some new friends in Hollywood. The latest one is Modern Family actress Sofia Vergara. And you won't believe but the two actresses were caught in a compromising position. They were inside an elevator and when the doors opened there was a surprising sight waiting for us. We have no clue what the two of them were up to, as they were fixing their hair and dress, and pretending to get away from each other inside the elevator. That's being quite suggestive, ladies! Or maybe they were just fixing their dresses, and I am letting my imagination run wild.
It's super funny and we totally know it is staged. The two gorgeous ladies are just being goofy for the camera. So, are Priyanka Chopra and Sofia Vergara the new BFFs in town? Or is just going to be a one day friendship like that of Priyanka and Tom Hiddleston? We totally hope it is the former. Priyanka and Sofia would make such a great team. Earlier during the day, Priyanka and Sofia also posed for a Boomerang video, and the latter put it up on her Instagram. Maybe, the two actresses connected over the fact that they were sort of twinning at the Golden Globes 2017. Both were wearing golden and looked stunning. While Priyanka Chopra was wearing a Ralph Lauren couture, Sofia picked a Zuhair Murad creation. We just can't decide who rocked the dress better! Want to help us pick? Vote here!
Priyanka was joined by Hollywood actor Jeffrey Dean Morgan on stage of the 74th Golden Globe Awards to present the award for the Best Performance by an Actor in a Television Series – Drama. Billy Bob Thornton won it for his role of Billy MacBride in popular legal drama web TV series Goliath.
Now it's time to party for the guests at the Golden Globes after-party. It was one hell of a surprise but Deepika Padukone has arrived at the party. Whoa! We are so thrilled for Priyanka and Deepika to pose together for a picture. That one would break the internet, and might just make new friend Sofia jealous of Deepika.