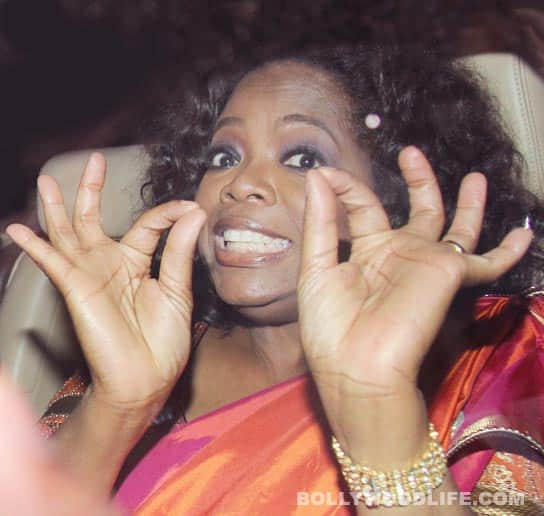 She drapes a sari, visits the Bachchans and meets slumdwellers, but why all this fuss?
A lot of hullabaloo is being made about Oprah Winfrey's visit to India, but just stop and think for a moment and you too will ask, "So what?" True, Oprah revolutionised American television viewing habits, became the first African-American woman to host a chat show and addressed issues that were till then considered taboo through The Oprah Winfrey Show. Forbes even gave her the top spot on their Power Celebrity 100 list, but that was seven years ago. Since then, it hasn't been all roses for Oprah. The same magazine reported that she has been struggling to draw her devoted fans to her own channel, the Oprah Winfrey Network, or OWN.
When she ended The Oprah Winfrey Show after 25 long seasons, she claimed she would be glad to stay behind the camera for OWN. However, when OWN's ratings continued to dip, Oprah was forced to start airing old episodes of her signature show. That didn't work and Oprah returned to face the camera for Next Chapter, a chat show in which she travels the world to interview celebrities. It is for this that she has come to India. She wore a sari and met slumdwellers for content that she would use to increase her channel's ratings. And, after all the good things she has to say about the Bachchans' hospitality, you can be sure they will feature on her chat show. Now we know the Bachchans will benefit and so will Oprah, but who else? So we ask again, what's the big deal? It's not even as if she's going to open a school here, the way she did in South Africa. So why are we creating so much fuss over her visit? Oprah is quickly moving from TV queen to has-been, but that doesn't deter fame-seeking Bollywood celebrities who otherwise shun colleagues after even one flop film from milling about her at a party. After the hoo-ha, they can talk about Oprah, Oprah can talk about them. Everyone goes home happy. That's the way of the world.