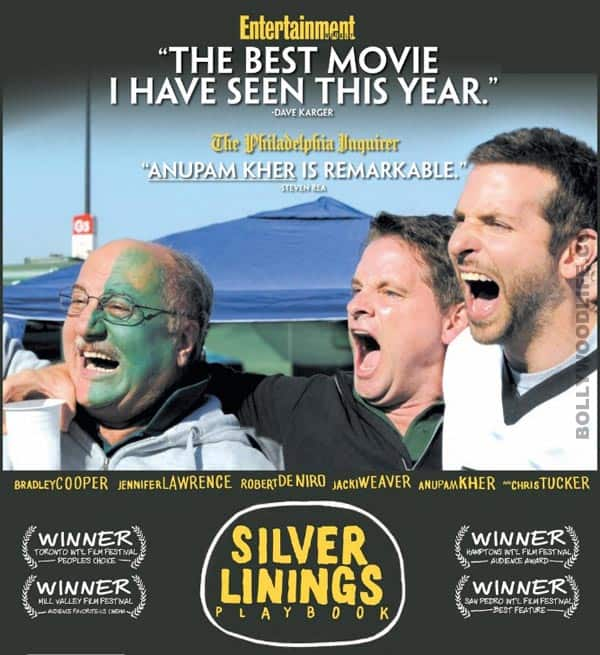 The actor cherishes working in the film with actors Bradley Cooper, Robert De Niro, Jacki Weaver and Jennifer Lawrence
Bollywood actor Anupam Kher is over the moon. His big Hollywood film Silver Linings Playbook has received eight Oscar nominations at this year's awards. "This is the biggest moment of my life," said Kher. "As an Indian actor, I feel rewarded for my 30 years of contribution to cinema. I am glad to have worked with the fabulous cast and crew of Silver Linings Playbook," he added.
The thespian who has starred in over 400 movies – Indian and international – plays an Indian therapist in Silver Linings Playbook. The film is about bipolar disorder and a dysfunctional person played by Hollywood actor Bradley Cooper. Veteran Robert De Niro plays Cooper's father and Jacki Weaver plays his mother in the movie that also stars Jennifer Lawrence.
About his role as Dr Patel, Kher revealed to a website that he prepared for it as a freshman. "I wanted to start this film as a newcomer. I totally forgot that I have done so much work…I just wanted to start from scratch," he said. He disclosed that his character also turns out to be dysfunctional in the end.
Kher was all praise for director David O Russell. "David is undoubtedly a brilliant filmmaker and he has proved it again. A major part of me as an actor feels satiated today," said the actor.
The 85th Academy Awards nominations were announced in Los Angeles on Thursday, January 10.