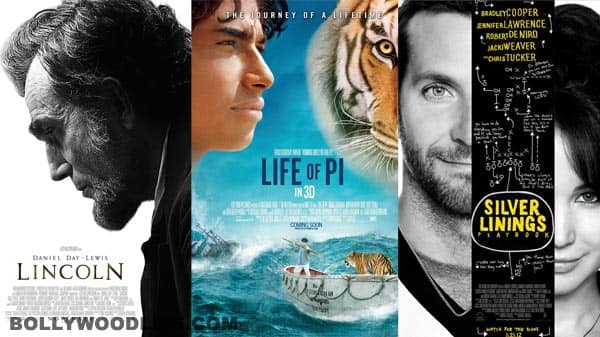 All three Hollywood movies have an Indian connection and are frontrunners for winning the Academy Award for Best Picture for 2013
The 85th Oscar Awards nominations list was declared yesterday, and three films with an Indian connect have been selected. Steven Spielberg's presidential drama Lincoln, produced by Reliance DreamWorks, is the frontrunner for the Academy Awards with 12 citations, while Ang Lee's Life of Pi starring Suraj Sharma, Irrfan Khan and Tabu follows close behind with 11 nominations, it was announced early Thursday. Bradley Cooper's Silver Linings Playbook that also stars Bollywood's Anupam Kher has received eight nominations.
Lincoln, which is also leading the nomination pack at the Golden Globe awards, the Screen Actors Guild Awards and the British Academy of Film and Television Arts (BAFTA) Awards this year, is a biopic on US president Abraham Lincoln's struggles during the Civil War. The movie has been nominated across categories including best picture, best actor (Daniel Day-Lewis), writing – adapted screenplay, actress in a supporting role (Sally Field), actor in a supporting role (Tommy Lee Jones), directing (Steven Spielberg), costume design, cinematography, film editing, music – original score, production design and sound mixing.
Life of Pi, a fantasy adventure drama, widely shot in India, is the adaptation of Canadian author Yann Martel's Man Booker Prize-winning eponymous novel. It narrates the journey of an Indian boy who survives a storm. Some key categories in which the movie has been nominated are best picture, cinematography and directing.
A total of nine films are competing in the best picture category. These are Amour, Argo, Beasts of the Southern Wild, Django Unchained, Les Miserables, Life of Pi, Lincoln, Silver Linings Playbook and Zero Dark Thirty.
The talents vying for the best actor trophy include names like Bradley Cooper (Silver Linings Playbook), Hugh Jackman (Les Miserables), Joaquin Phoenix (The Master) and Denzel Washington (Flight), apart from Day-Lewis for Lincoln.
Jessica Chastain (Zero Dark Thirty), Jennifer Lawrence (Silver Linings Playbook), Emmanuelle Riva (Amour), Quvenzhane Wallis (Beasts of the Southern Wild) and Naomi Watts (The Impossible) are in the run for the best actress title.
Apart from Spielberg for Lincoln, other nominations in the best director category are Michael Haneke (Amour), Benh Zeitlin (Beasts of the Southern Wild), Ang Lee (Life of Pi) and David O Russell (Silver Linings Playbook).
The foreign language films nominated for the golden statuette include Amour (Austria), Kon-Tiki (Norway), No (Chile), A Royal Affair (Denmark) and War Witch (Canada).
Overall, romantic comedy-drama Silver Linings Playbook is third on the list of top-scorers in the Oscar nomination list with eight nods, while political thriller Argo and musical Les Miserables are in a tie with seven citations each.
Kathryn Bigelow's Zero Dark Thirty and Quentin Tarantino's Django Unchained too are in a tie with five nominations each to their credit. Bond film Skyfall has four nods.
The Oscar presentation ceremony will be held February 24 in Hollywood's Dolby Theater.