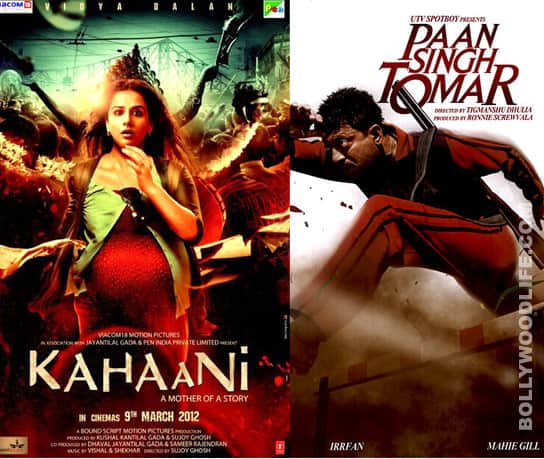 Looking at the list of releases in 2012, it is highly unlikely that any movie that comes out of Bollywood will make to the Oscars next year
People often debate whether Bollywood needs acknowledgement from the Academy Awards and if we really need to be appreciated by the West. And while some argue that winning an Oscar should not be a benchmark for Indian films or a source of self gratification for our filmmakers and actors, the truth is that winning that coveted trophy is likely to bring popularity on a global level. Even someone like Aamir Khan, who never attends Indian award shows, went to great lengths to promote Lagaan when it was nominated in the Best Foreign Language Film category.
Lagaan (in 2001) was the last time India made its presence felt at the Academy Awards. And that was 11 years ago. It's been a decade since then and India is still struggling to find a voice at the Academy Awards. As much as we would like to believe that Slumdog Millionaire was an Indian film, that is definitely not the case. The film was based in India, with a semi-Indian cast and some Indian crew, but that's all. One cannot take away from the fact that winning an Oscar boosted the careers of several Bollywoodians involved. Mumbai's Frieda Pinto and Dev Patel (a British Indian) have bagged several American films after that and the couple is now comfortably planted in LA. It also got Anil Kapoor two important projects – the televisions series 24 and a bit role in Mission Impossible: Ghost Protocol. The only Indians who bona fide won an Oscar for the movie, were AR Rahman and Gulzar. Rahman's international career took off stratospherically after his victory and Jai ho made him a global icon of sorts.
But success stories like this are few. Since 1957, India has sent over forty films to the Academy Awards, more than any other country outside Europe, of which only three have managed to bag a nomination in the last 55 years – Mother India, Salaam Bombay and Lagaan. None of these films managed to win. Kamal Haasan, though not really a Bollywood star, has represented India seven times at the Oscars, the most by an Indian. He never won. Satyajit Ray is the only Indian filmmaker to have won an Academy Award, but not for his productions, though three of them were nominated in the Best Film category over the years. The Bengali filmmaker was finally presented with a Lifetime Achievement award towards the end of his career…and his life.
Do we have a filmmaker today in Bollywood, anywhere close to Ray's calibre, who has the potential to leave an impact at the Oscars and on global cinema? Films that we consider masterpieces and path-breaking in India haven't even progressed halfway through to the Academy screening process. The most 'impactful' movies in recent times – Maqbool, Black Friday, Dev D, Rang De Basanti, Udaan, Love Sex Aur Dhoka, Stanley Ka Dabba, Delhi Belly and many others, most small budget movies – have in some way changed the course of Bollywood, but have little impression on the rest of the celluloid world. While Black Friday was the only film to have been nominated (at the 57th Locarno International Film Festival in the Best Film category in 2004) for an international award, the rest never made it to the international map.
Truth is that the biggest mainstream Bollywood films are highly unlikely to stand a chance at the Oscars. Can you imagine sending Bodyguard, Dabangg, RA.One, Don 2 or Ghajini to be judged by an august panel? Perhaps 3 Idiots and Lage Raho Munnabhai might have made the cut…to the first round or in technical awards categories. This year (2012) is packed with big films like Dabangg 2, Ek Tha Tiger, Talaash, Krissh 2, Agent Vinod and Housefull 2 that are expected to rock the box office, but are most unlikely to make any significant cinematic impact. And then there are romcoms likeTere Naal Love Ho Gaya, Jodi Breakers and London Paris New York, which are not of the kind to make it big even at local prize ceremonies. While there is no harm in making a film with box office success in mind, the current Bollywood scenario makes desi chances at international awards bleak, to say the least. Bollywood is too busy making sequels and South or Hollywood remakes to notice the route being taken. And it is, in fact, the regional films and small-budget Hindi productions that could carry through – Marathi films like Hairshchandrachi Factory and Shaala or Salim Aahmed's Malayalam film Adaminte Makan Abu, which did make the preliminary cut, but lost out on the way to the final list.
The few interesting Bollywood products to release in 2012 seem to be Tigmanshu Dhulia's Paan Singh Tomar, Sujoy Ghosh's Kahaani, Vishal Bharadwaj's Matru Ki Bijli Ka Mandola, Anurag Kashyap Gangs Of Wasseypur, Rajesh Mapuskar's Ferarri Ki Sawaari, Dibakar Banerjee's Shanghai and Vikramadtiya Motwane's Lootera. There is a small ray of hope. But Bollywood's fortunes at the international level lie in the hands of a tiny clique of filmmakers once viewed as outsiders for their radical perception of cinema. The likes of Anurag Kashyap, Dibakar Banerjee, Vikramaditya Motwane, Rajkumar Gupta and others, who have slowly and steadily found a place in mainstream Bollywood, could take us places on a bigger canvas.
But a real transition is possible only if we move on from promoting Bollywood to promoting Indian cinema. And from celebrating stars to celebrating films.