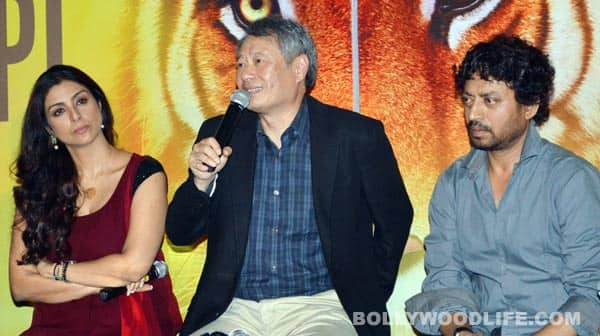 skip advertisement
Tabu-Ang Lee-Irfan Khan-291012
The Academy Award-winning director's new production Life of Pi will also be the inaugural film of the 43rd International Film Festival of India (IIFI) to be held in Goa in November
Those who have watched the trailer of Ang Lee's forthcoming release Life of Pi will swear by the visual delight the Oscar-winning director has promised to dish out in his fascinating directorial venture. Lee flew in from New York today to promote the film.
Starring Delhi lad Suraj Sharma, Life of Pi is the visually stunning tale of a boy who is adrift at sea in a lifeboat with a Bengal tiger for company after his family is drowned in a shipwreck. The film has been extensively shot in Puducherry and Munnar. It is scheduled to hit theatres on November 23 in English, Hindi, Tamil and Telugu. Powerful actors like Irrfan Khan, Tabu, Adil Hussain, Gerard Depardieu and Rafe Spall will be seen in this fantasy film. The 58-year-old director wants to use much time as possible to spread the word about his project, since he won't be attending the lavish premiere of the film in Goa.
The movie is based on Canadian author Yann Martel's Booker Prize-winning 2001 novel of the same name. A little birdie informs us that Lee has reversed the promotional strategy for India and will go to other countries from here, rather than the other way around.
Click below for pictures of Ang Lee and other stars at the 43rd International Film Festival of India event.