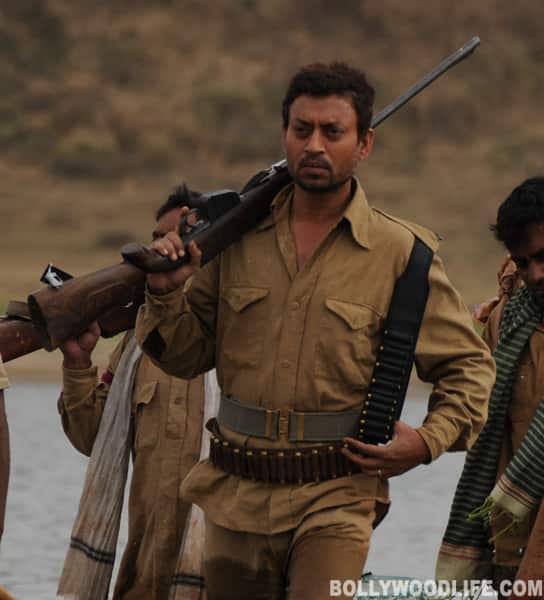 Tigmanshu Dhulia, his cast and crew deserve a standing ovation as they yet again, make it to the finishing line with a flourish
Once in a while we see a Bollywood film which is true to its soul, which not only manages to keep you entertained but also carries a message. This year, the first film to do so is director Tigmanshu Dhulia's Paan Singh Tomar. It tells the real life story of Paan Singh Tomar (Irrfan Khan), his meteoric rise as an athlete and his subsequent descent into the ravines of Chambal as just another name in the list of dacoits killed in police encounters.
Paan Singh is a national steeple chase champion. Unfortunately, he has to go through an acid test which none of us can imagine. He now has to jump the hurdles life sets in front of him, he is a man with immense self-respect who has to justify his acts of crime to redeem his soul, a proud father who cannot embrace his son because it might mar his image, a loving husband who is unable to spend some time with his wife because he fears for his life. Paan Singh is a friend you can count on.
Probably one of the most complex characters written in Hindi cinema, Paan Singh Tomar, played marvelously by Irrfan Khan, will surely be remembered for generations to come. Irrfan shines through as an athlete, as a soldier who wants to give up his life for his country, as a troubled man fighting for his grabbed land, as the man of the house who loves his family to death, as a feared dacoit who chooses to be addressed as a rebel (as according to him, dacoits are in the parliament), as a wronged citizen who didn't get justice when he wanted it the most. He gives a powerpacked performance, once again.
Among the others in the film, Brajendra Kala as the reporter, Rajendra Gupta as the coach, Vipin Sharma as Major Masand and Mahie Gill as Paan Singh's wife, make their presence felt through their strong supporting performances. The production designers have taken great pains to recreate an era where dacoits and kidnappers were common. After Sahib, Biwi Aur Gangster, Tigmanshu Dhulia has once again upped the high standards he sets for himself. Though Paan Singh Tomar has been lying in the cans for a few years now, it has a timeless aura to it; something in the league of Vishal Bhardwaj's Omkara, Anurag Kashyap's Gulaal and Ramesh Sippy's Sholay. Book your tickets now.
ALSO READ: What makes Irrfan Khan so charismatic?
Why Irrfan Khan replaced Neil Nitin Mukesh in 'Sahib Biwi Aur Gangster' sequel?