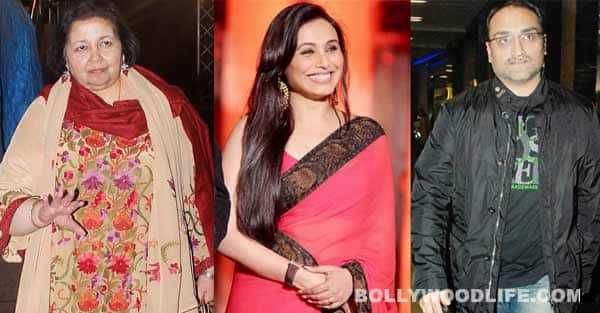 The paparazzi went crazy as family and friends of the newly wedded couple arrived for the post marriage party
Aditya Chopra and his wife Rani Mukerji are back in Mumbai after a wedding and honeymoon in Italy. Known to be extremely reclusive, almost to the point of being anti-social, Aditya reluctantly agreed to have close family friends over for dinner, at the insistence of his mom Pamela.
On Sunday evening, the Chopras' bungalow saw a selected group of friends and relatives dropping by. Says one of the guests who was present, "The dinner was Pam's idea. True to his nature, Adi was totally opposed to the idea of a wedding reception. But he can never say no to his mother. Like any mother with a newly-married son, Mrs Chopra was keen to call friends and relatives over after Adi returned with Rani from Italy as an official couple. Especially because close relatives and friends were not invited to be part of the wedding celebrations in Italy."
Adi agreed to host the party for his mother's sake.The guest list included old friends of Mr and Mrs Yash Chopra like Anupam and Kirron Kher, singer Nitin Mukesh with his wife, Siddharth Kak and his wife Geeta Siddharth (she has done roles in several Yash Chopra films including Trishul ). Yash Chopra's brother BR Chopra's two grandsons Abhay and Kapil were also present.
BR Chopra's son Ravi Chopra is unwell and was therefore unable to attend the dinner. Says an invitee, "It was a very warm, pleasant and sober evening. Adi made an effort to be sociable with all the guests. Rani and Adi looked extremely happy together. Rani looked after every guest personally."
Text: DNA