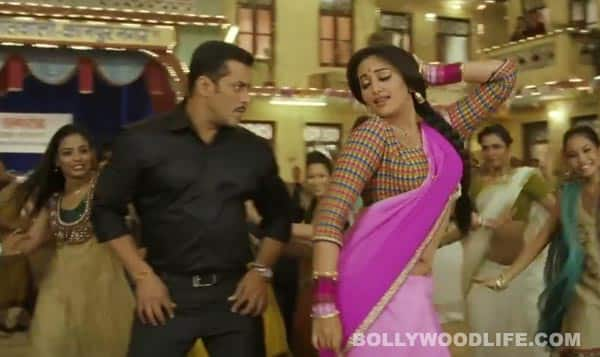 The filmmaker himself is seen having a gala time shooting the masala soundtrack in this highly anticipated movie. Take a look…
Apna Chulbul Pandey is back again. Arbaaz Khan's first mega directorial venture Dabangg 2, starring Salman Khan, Sonakshi Sinha and Prakash Raj is releasing on December 21. Like the 2010 blockbuster Dabangg, where Inspector Pandey jee gets sloshed with his subordinates in the song Humka peeni hai, this time too they are seen celebrating their boss' victory in Pandey jee seeti maare. In the making of the song video, we see veteran choreographer Chinni Prakash and Sallu's favourite, Mudassar Khan, making sure that Pandey jee dances to better steps than last time. And the trio – Arbaaz, Salman and Sonakshi are seen having loads of masti.
In this video, Salman works hard to match up to the choreographer's expectations, and is seen performing on some Munni badnaam hui steps too. From what we see, Sallu is a thorough entertainer off the sets too. He's seen joking and giggling with brother Arbaaz and Sonakshi as they rehearse on what Arbaaz calls the masala commercial song of the year. Watch the makers and actors of Dabangg 2 – Chulbul and his bulbul, shooting for the high-on-energy song, and yes, please feel free to whistle. You just can't miss this one, for sure!