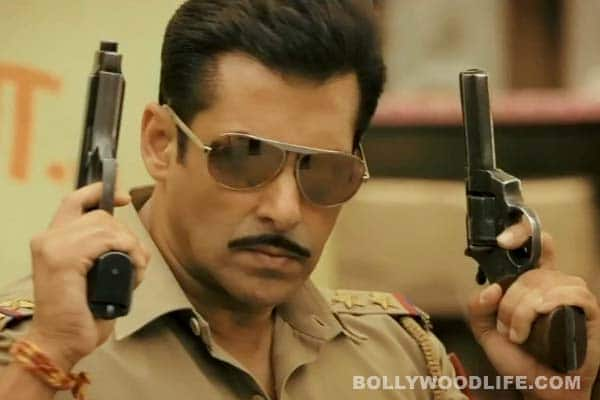 Salman Khan aka Chulbul Pandey is back with what he does best in Dabangg 2. Watch the macho B'wood star bajao seeti of every bad ass he encounters!
Very few actors beat the villains the way Salman Dabangg Khan does. In his forthcoming action flick Dabangg 2, Bhai will be seen bashing up the bad guys to the tune of Pandey ji seeti bajjaye jee siti. Just to ease the tension of this Dabangg  2 song we converted its lyrics into English, but our noble efforts got lost in translation!
Kehte hain karte hain jo marzi
Sunte nahi hai kisi ki arzi
Say say that whatever we wish
Don't listen to anybody's request
Arey karte nahi humare guller duty
Thana mein hahhaan
Thana mein thana me thana mein
Thana mein baithe on duty
Oye we don't do haphazard duty
In the station
In the station
In the station I sit on duty
Bajave haye pandeyji seeti
Pandeyji seeti bajave jee seeti
Pandey ji seeti bajave on duty
Blow Pandey sir a whistle
Pandey sir blow the whistle
Pandey blow the whistle on duty
Aadat badi naashpeeti
Bajave haaye
Bajave haaye
Pandeyji seeti haay..
The habit is very appalling
Blow, Pandey sir, blow the whistle.
What do you think of the Pandey ji seeti lyrics? Post your comments below. Watch the full song and tell us if you like Salman Khan's impossible-to-imitate antics!