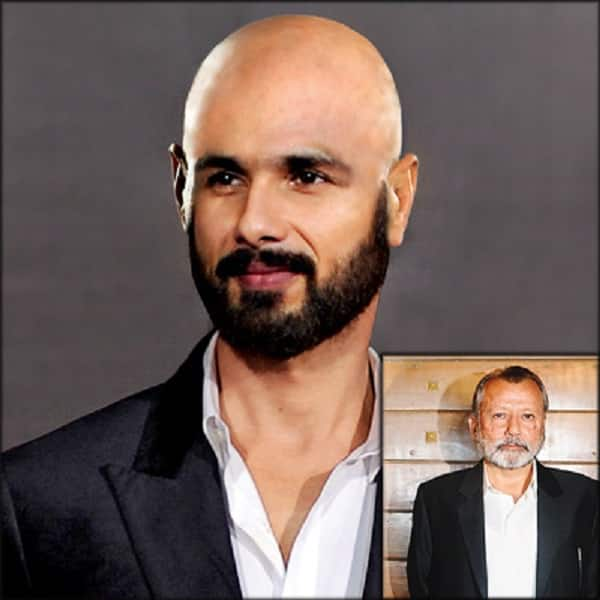 DNA
Sasha's father had himself shaved his head twice for films
On Wednesday night, after months of will he-won't he, Shahid Kapoor shaved his hair for his next film, Haider. Hairstylist Aalim Hakim was especially flown down to Srinagar to do the honours. On Wednesday morning, Shak's fans on Twitter made an urgent plea to him to rethink sporting a bald pate for the film, but the actor was convinced and went ahead with the plan.
He drew inspiration from an actor he greatly admires — his father Pankaj Kapur, who has gone bald twice in his career. Once for Dus (2005) and then Dharam (2007). Here, the father talks about his reaction to his son's decision. Read on…
Shahid has gone bald for Haider…
As a father and an actor, I think it's fantastic! I am extremely happy that he decided to shave his hair. It's a part of being an actor. If the role demands something, one must do it. Every actor should do whatever is required to breathe life into a character. Though Shahid is a mainstream star, he decided to go bald. A lot of credit should go to him for that. It shows his maturity and commitment towards his work. A lot of directors will feel happy because this proves his serious approach to his work. Shahid means business and will go to any lengths to satisfy his director and play the part to perfection. The audiences, producers and directors will realise his capabilities and caliber as an actor and entertainer.
Shahid Kapoor: Haider has given a chance to explore a new space
It's a big deal, no?
It's no big deal really. The finest of actors have done whatever is required for their character. From Hollywood stars like Brad Pitt, Dustin Hoffman and Robert De Niro to Indian stalwarts like Naseeruddin Shah and Kamal Haasan, all have done the same.
Did Shahid discuss his decision with you?
He told me when he read the script and had discussions with the director. He told me, 'Dad at a certain time in the film I will have to go bald.' I told him that it's great that he is contemplating it and that he must do it.
Shahid always says he discusses his scripts and roles with you as he gets feedback…
(Laughs) Well, Shahid is a good son and a kind one. He has great potential and very little has been exploited so far. I am very happy he's doing Vishal's (Bhardwaj) adapation of Hamlet (Haider). Hamlet is a role that every actor longs to do. It's been wonderful working with Vishal. I am sure Shahid is having a wonderful time too.
Haider on the sets: Shraddha Kapoor looks pretty in a Kashmiri girl's avatar!
You have shaved your head off for your films, right?
Yes, I have gone bald twice — once in Dus which was a mainstream film where I changed my look in the end and Dharam where I play a Brahmin. I went completely bald and had to stay like that for nine months because the film got delayed. I refused a lot of work because I had given my commitment to the film. It's part of my job. If I feel I need to look the part, I will do it.
Which has been your most challenging role?
Instead of one role, I would rather look at it as my entire body of work where each character has been more challenging than the earlier one. And if you look at my body of work — a large part of it, my characters have always been very different from each other. For example, Ek Doctor Ki Maut, Matru Ki Bijli Ka Mandola, Dharam, Ek Ruka Hua Faisla… I have put on weight and gone bald in them. I was barely 28, when I play a 50-plus man, father of a grown-up son, in Ek Ruka Hua Faisla. As actors we look into what is required by the director. In Maqbool, it was the way a man walks, like I did. You create your character the way your director wants and deliver as the script demands. I am very happy that my son has a similar approach towards his work.
How did your family react to the bald decision? I mean Supriya and your two daughters.
We are a family of actors so they all told him 'damn good! It will give you a new look.' We always believe if it is right for the character just go ahead and do it. From a practical point of view, he won't be able to work in another film for next two-three months but Shahid is quite cool with that. He says that after having a strenuous schedule in Haider it won't be difficult to take a breather for a month and a half. He has a very positive mindset.
Story text and image courtesy DNA