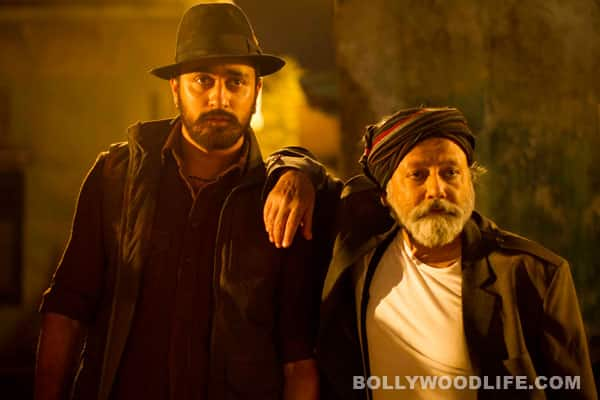 One of the finest actors in Hindi cinema talks about his new film, Matru Ki Bijlee Ka Mandola, his young co-star Imran Khan, his newly discovered dancing prowess, his son Shahid Kapoor's marriage plans, Jaane Bhi Do Yaaron and much more. Meet Pankaj Kapur….
For about three decades now Pankaj Kapur has been one of Bollywood's most powerful actors. Proving his mettle equally in arthouse and commercial cinema, he's given the Indian audience more than the average depth to each character he has played. In 2011, when he turned his attention to direction with Mausam, it made the whole industry and movie buffs alike sit up and take notice, no matter that the film bombed badly. And now two years after Chala Mussaddi Office Office, the Omkara actor is set to turn a new page with Vishal Bhardwaj's Matru Ki Bijlee Ka Mandola. A free-ranging, free-wheeling chat over a cup of coffee with the usually inaccessible and elusive versatile performer is a delight….
Ever since the first poster and songs of MKBKM were launched, people have been talking more about you than about the lead pair – Imran Khan and Anushka Sharma. You must be really flattered…
I don't think that's true, because my perception is that people are talking about the film. I've done a film two years after Mausam. Probably this time, I've done something very different from what people perceive me as. Therefore, I am being noticed a little more than the other actors, in that sense. The movie promos are very catchy. Vishal Bhardwaj, Imran, Anushka… everyone has done a great job.
How did your family react to your dance moves?
More than my family members, I feel it's more of a surprise for the audience, as they haven't seen me dancing like this before. I hope people appreciate my dancing skills too!
When Vishal narrated MKBKM's script and revealed the movie title, what was your reaction?
Oh, I loved the title! A lot of people asked Vishal to change it, but I told him to stick to it because I knew that audiences would take time to accept it. I told Vishal that once people accept it, they'll accept it in a very big way. And that's what has happened. I read the script and instantly developed a liking for it. I thought Mandola is a very nice, spicy, flamboyant and ambitious character who's also full of life, flirtatious and alcoholic… something I haven't done.
Reportedly, your character (Mandola) is heavily modeled on liquor baron Vijay Mallya…
I really don't know. Please ask this question of Vishal Bhardwaj. If he says 'yes', please let me know (smiles).
Imran is still trying to make it big as an actor. What's your take on him?
He's a very hardworking and disciplined boy. I personally feel if you don't have these qualities, then you can never become a good actor. But Imraan is on his way to becoming a very fine actor. He has the ability to improvise and listen to his director and go to any lengths for his role.
As a veteran actor, do you feel you get the kind of respect you deserve while working with younger co-stars like Imran and Anushka?
God has been very kind. All the actors I have ever worked with in my entire career have given me respect and regards and a sense of mutual admiration as a co-star.
Your good friend Naseeruddin Shah plays the hero even at this age, be it in The Dirty Picture, Ishqiya or Saat Khoon Maaf. Does he inspire you to do roles like Mandola?
Undoubtedly – he has been an inspiration to me and, I'm sure, to many. I have learnt a lot from him and have great respect and regard for him. I believe he's one of the very finest actors of Hindi cinema.
In a recent interview, you said you wanted your son Shahid Kapoor to get married….
See, that statement was blown out of proportion, yaar! You know how media functions, right? (Smiles) A journalist asked me about Shahid's marriage, so I told him that as any normal, concerned father, I would love to see my son getting married. Whenever he tells me about it, I'll make all the necessary arrangements.
Any plan to direct after Mausam?
Right now, I'm in the mood to do good work as an actor, because I don't want the audience and my fans to forget me (smiles). I have a few scripts with me that I wrote long before Mausam and there's something brewing in my head as well. Let's see.
Has first time direction left you enriched or drained?
(Smiles) It has enriched and drained me amazingly. It has enriched me in terms of the creative leap that I wanted to take as a filmmaker, and drained me because it took too long and the circumstances under which it was made were very trying. It helped me to become a better filmmaker and a more mature person.
Jaane Bhi Do Yaaron re-released recently. Would you want the film's sequel to be made? Do you see yourself fitting into it now, or should it star actors of today's generation?
I can't comment on that because I'm not sure how the script of the sequel would actually turn out to be. Twenty-five years have passed. I don't know how much people recollect of the original comedy. The new subject needs to have a new approach. You might have the same title and black humour, but to connect with the same characters and carry them forward…I'm not too sure. Having said that, I would love the opportunity of doing a better part than in the original.