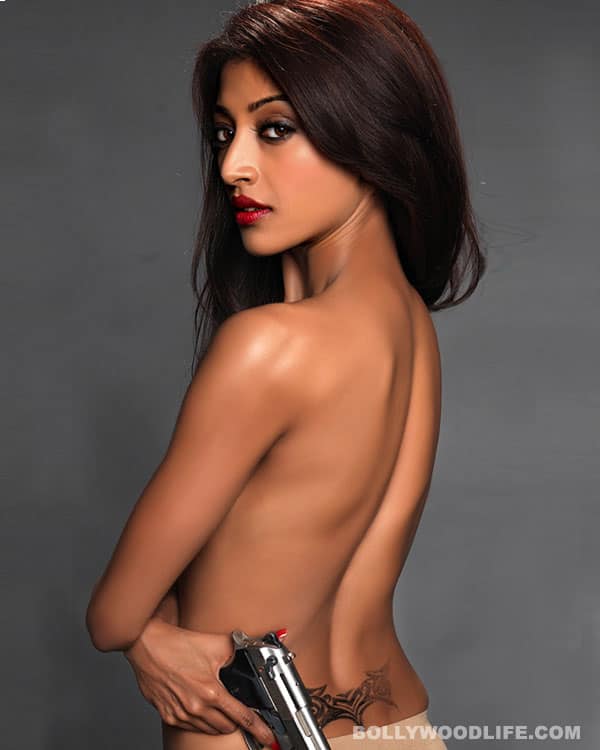 If you don't know who she is and haven't yet seen the promos of her controversial film Hate Story, chances are high that you have been hibernating under a rock on some distant planet. We cornered dusky sensation Paoli Dam on a scorching April afternoon to know what her upcoming revenge drama is all about, why she chose to do it and how controversy around the film is not an intentional PR drive to grab eyeballs
It's unbelievably hot. And we are relaxing at a plush lounge in a suburban swanky hotel in Mumbai that is supposed to be cool and comfy. But the mercury is touching a record high in the luxurious air-conditioned banquet hall. We look around to find the reason for the unexpected mini global warming… and we spot Paoli Dam!
Dressed in a blood-red gorgeous outfit with a nice peplum, the Hate Story actor looks smoking hot! Paoli's dusky skin, pencil thin body and sculpted features – a heady concoction – are definitely striking, but her persona is equally unassuming. Mandatory hugs and a couple of coffees later, we get down to business straight away…. the interview, that is!
Happy with the way Hate Story is making a buzz?
Yeah! There's a lot of buzz. The promos too have gone absolutely viral and the poster directly tells you what to expect from the film. Basically, the film is about the game of power and how one rules it.
You look excited about your Bollywood debut – is there anything about the film you are not so excited about?
As an actor, I am not finicky at all. In fact, when it comes to acting before the camera I am at the mercy of my director, but what I am extremely choosy about is the character I get to portray. I like Vikram Bhatt as a director; I like the experimental films he makes. So when I got this offer from Vikram, who is producing Hate Story, I was thrilled. My only concern is that people should not look at it as erotica. It's a good story. One should go beyond the promo of the film.
You mean there were no apprehensions at all when you signed Hate Story, touted as the first erotic film in the country?
If you are a professional actor, what would you be apprehensive about? If you are convinced about the character you are going to play, then there will be no apprehensions. I was convinced about Kavya, the character I am playing in this film.
Tell us more about Kavya. Is she edgy and in-your-face?
Kavya is a journalist. She's a very normal person. She's very social and bright. Now the story is what takes a sudden U-turn in Kavya's life and makes her what she becomes in the end. It's not a story about sex. Sex is the power, it's the tool Kavya uses to get what she wants – and what she wants is revenge. Kavya trusts an individual immensely and she gets betrayed. She loses her self-respect, her dignity and above all, she loses her unborn child. Now here's a woman who wanted to have happiness in her life. She was ambitious, happy and career-oriented. But the person Kavya loved used her and disowned her after destroying her soul. So what Kavya finds happiness in now is nothing but taking revenge on that individual. That's her only aim. There are many layers to the character and it has many dimensions as well.
What is the underlying message of the film? Does it justify the title?
We are living in 2012; you can't expect to slap a woman and get nothing in return. Therefore the film is about a woman using her power, her sexuality, to get what she needs. The underlying message is, if a woman can use her power to create, she can use the same power to destroy. Though women are very complex emotionally and are more forgiving than men, they won't hesitate to bite back if their core is hurt deeply. That's the reason the title is Hate Story. It is not just erotica. It's an erotic thriller. It's a revenge-drama with an emotional connect. When you watch the film, you automatically get on the protagonist's side. Even the protagonist is right here, she has her shares of limitations and quirks. So it's very real and I am not portraying a holy soul in the film. I believe sex is in the mind and not in the clothes you wear. Hate story is much more than sex.
There's already enough buzz about the steamy scenes in the film. You say sex is in the mind. Tell us, how did you prepare yourself mentally to perform in those scenes?
I am from Bengal. I don't know anybody here in Mumbai. I didn't know the unit. I had spoken with Vikram a couple of times. I was not familiar with Vivek Agnihotri, who is the director of the film. I chose to stay in the city for three months to understand the character and the demands to portray it. I had to undergo a lot of physical training. Vivek wanted me to shed a lot of weight. He was like, put off the weight and we will get into the reading and scripting sessions. Besides that, I had a lot of discussion with my crew members. I tried to understand the demands of the character and that helped a lot. It created a comfort zone. We didn't have to put in extra effort. And because we were functioning in a comfort zone, everything fell into place for us just as was required to pull off a film of this nature. It was spontaneous and absolutely comfortable.
Before signing the film and given the boldness it demanded, did you draw a line for yourself, the proverbial Laxman rekha? The line which you would not cross, no matter what?
Actually, I did not have to draw the line. The director himself drew the line and so did the producer. More than what they wanted, they were clear about what they did not want. There had to be something unique, something real. We kept in mind certain ingredients needed for a mainstream Bollywood film.
Hate Story apart, how would Paoli Dam introduce herself to Bollywood?
Now that's Interesting! Before Hate Story, I have done a lot of films in Bengal. I have worked with some eminent directors there – Gautam Ghose, Rituparno Ghosh and Buddhadeb Dasgupta. I have been exposed to some good cinema. But Bollywood is different, isn't it? Bollywood means glamour; it means beauty. Bollywood means boldness with brains. Bollywood is a huge brand in itself and of course I want to be part of its good cinema!
You are thrown into the limelight through this film, but do you fear that you will be seen with a certain perception after Hate Story and therefore be slotted into a particular category?
No, I don't think so. On the contrary, I am getting different offers to portray different characters in different cinema. And filmmakers these days understand that I am playing a role and portraying a character. There's no reason why they should come to me with prejudices or with a certain notion.
Finally, tell us why should we watch Hate Story…
It's a unique concept and it is shot very beautifully. We have nurtured this story with lots of love and care before releasing it for the masses.