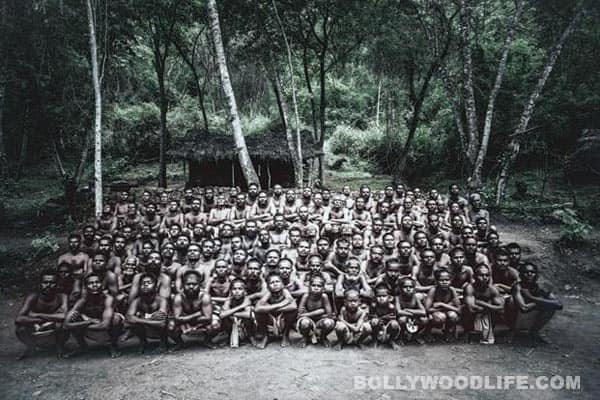 One of the most important films of the year, Paradesi manages to capture a lost era and tells a tale of bonded labour and slavery like no other movie in India has done so far
Every county has its own sad and horrific history of slavery that is rarely known. Turkey has its genocide of Armenian Jews. America has its own tale of atrocities committed on Red Indians and blacks. Germany has its Holocaust horrors. There are the killing fields of Cambodia, the Cultural Revolution in China, mass killings in Rwanda and much more. India has its secret history too, and Bala's film Paradesi is about one such time where untold atrocities were inflicted on tea plantation workers. These plantations were ruled by the British and slave labour was the way to get work done. Almost the entire movie can be summed up in this chillingly truthful observation in a song from the film: "Animals never enslave one another. Human beings do…"
Paradesi is a film like none other you have seen in Indian cinema until now. Simple in the way it's made, yet so tasteful and clever in the way it approaches its subject matter, it almost takes you by surprise when it launches full speed into the investigation of the human condition under slavery. This is the true story of a people tricked into bonded labour on the tea estates of the Madras Presidency during British rule, some time in the 1930s. It is based on a book by Paul Harris Daniel, who actually came across these workers. It shows how labour was made available on tea estates by conning whole villages into bonded labour and ultimately into slavery. It tackles a serious subject matter in a non-arthouse way, making the connect even more powerful.
In 1930s India, a drought has hit a small village hard. The wells run dry and the earth is parched. The villagers count the days waiting for their fortunes to turn. Even a funeral is hushed up as a wedding is held in the village; the grieving widow believes the hungry villagers deserve to eat a stomachful of fresh, hot food at least once a year, before the celebration is called off. All the villagers are a part of this sad little scenario except for Rasa (Atharva Murali), the village fool. He's the proverbial God's child with a heart of gold who goes around the village banging his little drum asking for arms. The villagers call him a paradesi, a wastrel. They heckle and hassle him. His frail, bent mother too is angry with him for begging. The person who really irritates Rasa is a girl called Angamma (Vedhicka). She derives great pleasure in mocking him; she imitates him, plays pranks on him and laughs at him whenever she crosses his path. She secretly loves him too, and slowly their love unfolds. And, as Rasa's love blossoms, along comes a contractor who lures the villagers with a chestful of money to a tea estate that is literally a living hell.
Here is where the movie turns on its heel and delivers gut punching moments in the form of sharply crafted scenes that play across beautifully, yet with an impending sense of doom. And its characters never forget their sense of humour, dark as it may be. And although this period film is purely story based, Bala has injected it with characters so real that they only help build a stronger connect with the audience. The director has managed to extract flawless performances from all the actors including Atharva, Vedhicka and Dhansika for whom it must have been tough role both physically and mentally.
The parched, stony landscape reminds you of Quentin Tarantino's Djago Unchained, mainly because that one was released so close to Paradesi. Yet Bala's take, unlike Tarantino's, is so reverent and humane that it leaves you with a very different aftertaste. Vairamuthu, who wrote the lyrics, has produced pure poetry, and at times even a subtitle says enough to run chills up and down your spine.
Paradesi secures a place right up there with Schindler's List and others that give a voice to those untold tales of cruelty and horror. Such a well crafted film deserves to be seen…and awarded. It's too important to be ignored.
Rating:
out of 5
Reviewed by Reza Noorani
* Poor
** Average
*** Good
**** Very good
***** Excellent