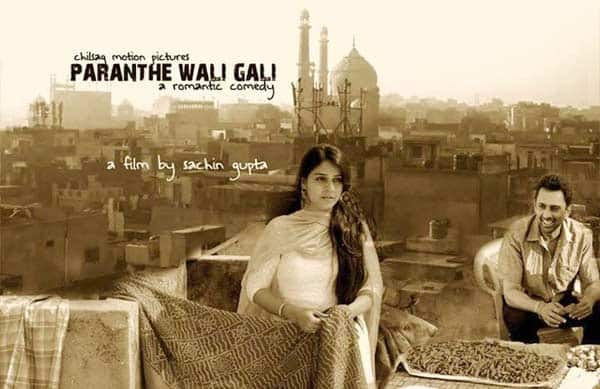 The movie has two heroes – paranthe and Delhi…
Delhi lovers are in for a treat because Paranthe Wali Gali (PWG) will take them through the most famous locations of the national capital like Dariba Kalan, Kinari Bazaar and Khari Bawri. Based in the most famous lane of Delhi – Paranthe Wali Gali, the story is about a theatre group which practices in the said lane.
Apart from this, Paranthe Wali Gali (the name) also finds connection in the form of debutant actor Neha Pawar. Neha plays a typical loud punjaban, Naina Kaur and I must say, she has done a mighty good job at it. Clap Clap! Naina runs her own catering business and delivers delicious makkhandaar paranthas to her clients. She eventually wants to have her own shop in Paranthe Waali Gali.
Coming to the male lead, Anuj Saxena makes a comeback to the silver screen after Aloo Chaat and in PWG, he is playing Maulik, a theatre artist who's struggling to make a mark in Delhi's drama fraternity. If we were to talk about his performance, apart from a few scenes where he had to smile, he hasn't really acted. The subject 'theatre' definitely demanded much more than what Anuj was able to deliver.
Now coming to the movie, Paranthe Wali Gali starts on a very light note and keeps the audience interested with the playful chemistry between Naina and Maulik. But post interval, the movie nosedives into a series of events that are not bound together. The subject is fresh but the botchy execution of the script makes it a tiring watch. The end, and by the end, I mean the closing shot is intelligently done and shows debutant director Sachin Gupta's potential, who himself has been associated with theatre since more than a decade.
Verdict: We sincerely hoped that the movie had fewer loose ends and was a little tighter. Having said that, it's a good one time watch and after a long day at work, Paranthe Wali Gali will surely leave you feeling fresh.
Rating:
out of 5
Reviewed by Kritika Ajmani
* Poor
** Average
*** Good
**** Very good
***** Excellent