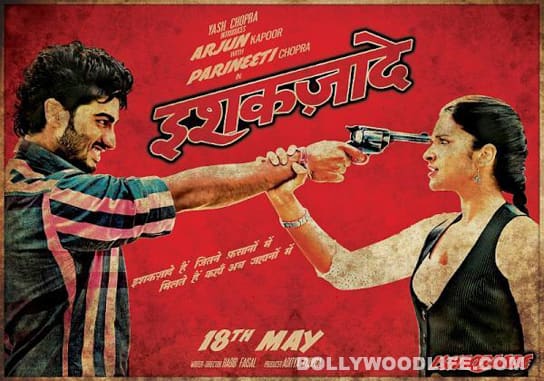 The new poster of Ishaqzaade takes you back to the times of good ol' Hindi movies of handmade posters
After Rowdy Rathore, Yash Raj Films' Ishaqzaade has taken us back to the 60s and 70s. The film is said to be a complicated love story involving murky politics and stars first time Arjun Kapoor and Parineeti Chopra. In the era before television came to India, posters were the only means of advertising. But today, there are several ways of marketing your film. This old-style poster is yet another move to grab the attention of the audience.
It's hand-painted!
Hand-painted posters became outdated way back in the late 80s. But before the digital methods of printing posters reached Bollywood, hand-painted posters were considered a work of art and painters were paid huge sums to come with a good quality poster with the stars looking as authentic as possible. Today many people head to Chor Bazaar to look for one of those old posters as a collector's item. The trend seems to have reversed with Rockstar going in for that old world charm and Rowdy Rathore and Ishaqzaade following up with more authentic painted posters. It's become a cool thing to get a handmade poster for your film!
The return of Hindi
In the '70s, movie names appeared in our rashtra bhasha (national language). Slowly, posters came out with the film title written in both – English and Hindi. Bollywood has slowly steered towards using only English since it was a cool thing to do. It looks like the makers of Ishaqzaade are trying to make Hindi cool again with their film title and their tagline.
Limelight is on the protagonist
The old Bollywood posters kept it simple by portraying the protagonists on the posters. Ishaqzaade here has followed a similar rule by displaying only the protagonists. What's more, the use of a rustic gun and the stance of the protagonists reminds you of the the old school 'filmi' quotient.
A starry introduction
'Yash Chopra presents Arjun Kapoor with Parineeti Chopra in Ishaqzaade' says the poster. Its combination of simple big and small fonts reminds us of the way actors were introduced in the posters of the '70s. Remember, the introduction to one of the director's famous films read: 'Yash Chopra's Silsila'.