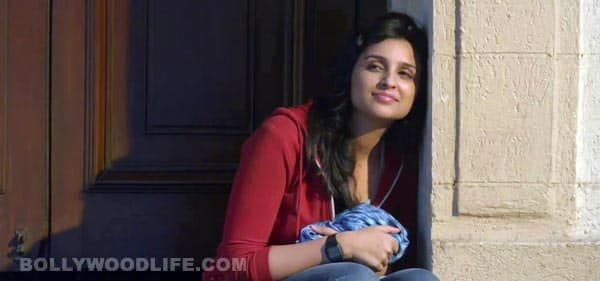 Starting with the rule of 'No boring questions', Priyanka Chopra's cousin spoke to us at the Dharma Productions office and gave us insight into how 'mental' her character in Hasee Toh Phasee really is…
Parineeti Chopra is perennially obsessed with her weight and the four-film-old actor asks every journalist whether she looks slimmer as she chats with them about her new film, Hasee Toh Phasee. She issued a mandate before she started interviews: she would not answer any boring questions; all that she was asked had to be quick and witty. And the 'rapid fire' went something like this …
Alia Bhatt said on Koffee with Karan recently that you were a good actor, but lacked a sense of style….
Actually, I called her up the very same day and told her that she need not be insecure of me. She herself is a great actor and there is nothing like I am a better actor than her. Style ke maamle mein yes, she was right. I don't have a great sense of style because I was always overweight…
Do you still consider yourself overweight?
What do you think! Haven't I lost some weight? And I want an answer….
Depends who your benchmark is—Alia or Sonakshi Sinha?
(Sadistic grin) Sorry to inform you, but you can't compare me to Sonakshi Sinha. Come on! On a serious note – yes, at some point I considered myself overweight. The clothes that designers sent me never fit me properly. So obviously when you don't have the body to pull off good clothes, then definitely your sense of style would get affected. For a couple of months I have been working hard to look better and lose weight and I think I definitely have lost some weight, but there is still a long way to go. Yes, if Alia is a benchmark, then I definitely have still not reached to her mark, but still you can't compare me to Sonakshi Sinha!
How different are the working cultures in Yash Raj Productions and Dharma Productions?
Aditya Chopra and Karan Johar are actually very cool producers. They treat you as a friend and give you great advice. You can meet them any time and approach them any time with any problem you are facing in terms of your character or anything else. In this sense the two production houses are not that different. But yes, at one point I was working at the YRF office and now when I come to Dharma I am like, 'Okay, so you'll do it this way'. That's all.
You have done all your films with newcomer heroes. Is it a conscious decision not to work with senior actors?
I have been offered films with senior actors, but my role in those films was not that good. I don't want to do a role which makes me appear onscreen just for 10-15 minutes. When I do have a considerable part in any film, I would definitely want to do it. The scripts with the senior actors were nice, but my role in those scripts was not very good. So I rejected many of those, some of which have released and some are still under production.
So among your co-stars who do you think is more promising—Ranveer Singh, Arjun Kapoor, Sushant Singh Rajput, Sidharth Malhotra or Aditya Roy Kapur?
To be honest, I am more worried about my future and whether people consider me promising or not. I cannot pin point any one. I like the films Aditya is doing—Fitoor and Dawat-e-ishq. Arjun's line up is also great. Ranveer, I guess, can't be in this list at all, as I feel he has already made it big. He is a big star now, so ideally he is no longer a newcomer.
Sidharth says that he is not a good dancer at all and he had to do a lot of retakes for the dance steps. Was it difficult matching steps with him?
No. I don't know why he keeps on saying that, but he is a good dancer. Yeah, he does find it difficult in the beginning, but once he gets it, he is good. In the songs which we are together he has not at all shown that he is a bad dancer. There were minimum retakes.
Was it because he was good, or was it because you were as not-good?
I feel like you are firing me like Arnab Goswami does on his show…! To be honest, no, I don't consider myself a bad dancer. I dance pretty well.
The title of the film itself suggests that it is quirky. What quirky habit does Sidharth have?
He applies lip balm a lot. Even I apply it a lot. Many times on sets it used to happen like everyone is waiting and we both are still doing our makeup, but what we were actually doing is putting on lip balm. Even between shots, when we went for touch-ups we used to be stuck for long applying just lip balm. It is a quirky kind of a habit that everyone on sets used to hate.
Did you have any 'senti' or 'mental' moments on sets?
I used to get 'senti' on sets a lot, especially when my shot was not going right. And talking of 'mental', playing this character itself was mental. The role demanded that. I had to be crazy and come up with ideas that were very weird and most of the times the director liked it.
Lots of newcomers are coming into the industry. Do you keep a tab on which movie someone else is bagging?
No. Actually I am busier thinking about my own films and which role I am getting and how I should prepare myself and better my acting skills.
There are lots of rom-coms releasing every year. What is different about this one?
The characters are different. It is not a normal boy and normal girl who meet and fall and love and then they have some problem and how they solve it. The characters are so strange that you won't be ready to believe that they can have a love story. That is the newness of the film.
Finally, have you ever been phasoed by any guy, as the title suggests?
No. That is the sad story of my life that no one has ever tried to phasao me.
What does a guy need to do to make you Hasee Toh Phasee?
Give me pizzas, but presently I am trying to lose weight and thus that option is also not happening. On a serious note, he needs to be a great guy and he definitely needs to have a great sense of humour. I like people with wit, as I get along with them very well. And yeah, he has to smell nice.