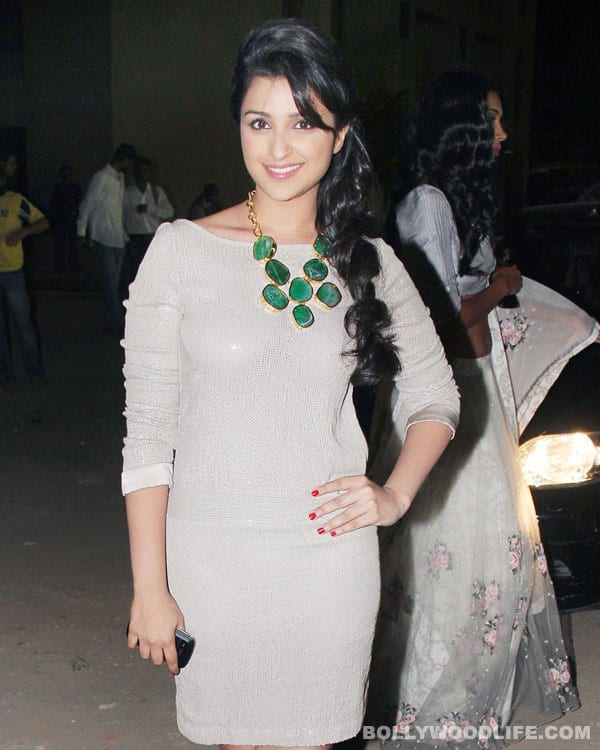 Ishqazaade's leading lady may still pinch herself in disbelief that she, an aspiring banker-turned-actor, was launched by the illustrious Yash Raj Films and is now a recognisable face on the streets of Mumbai. But Parineeti Chopra has the drive, melodrama and astuteness needed to be the new kid on the filmi block
Dressed in black skin-fit pants and a green formal top Parineeti Chopra, who is doing her round of media interactions on the first floor of Yash Raj Films' corporate office for Ishaqzaade, can easily be mistaken for one of the white-collared staffers. Maybe that's coz the 20-something began her journey in the industry as a film marketing executive at the same production house that gave her her big break onscreen.
A couple of years ago Parineeti, who claims was obese back then, never had any inkling for movies. She was enamoured by the world of commerce. "Since the time I was born I wanted to be a banker," says the 20-something and continues, "I studied banking in England. I did triple honours there. The year I graduated – 2009 – recession hit the country, so I wasn't getting a job. With all my humility I figured that something was wrong, coz I am a good student and I should have got a job! But I didn't, so I decided to come back to India for a holiday or intern for a while and then go back to England."
Coincidentally around that time Priyanka Chopra, her cousin, was working on YRF's Pyaar Impossible. During one of Parineeti's visits to her didi's sets – that's how she attributes PC – she thought of applying for a temporary assignment in the film-making company in the marketing and promotions team. "Even when I took up the job I knew I was going back to England in six months. But when I saw the actors, I liked what they were doing (acting). I felt I could act. Then I suddenly quit the job and got Ladies vs Ricky Bahl (LVRB). I am very lucky, coz everybody doesn't get this chance. I'll work hard and make up for it!"
Although, the role Parineeti was offered wasn't something she had in mind. Making it sound as dramatic as possible, she says, "I was shocked when Adi (Chopra) offered me a film with four girls! At first I thought I would be the leading lady, but when he told me I was one of the supporting actors, I was further shocked! Adi told me LVRB is not your ideal launch. He just told me play Dimple's part well and I wouldn't regret it. I guess he is Aditya Chopra and he knows best. And that's what I did. Today people feel that I wasn't a supporting actor in LVRB."
Soon after everyone started talking about Priyanka's little sister's performance in the Ranveer Singh-Anushka Sharma starrer, YRF announced a film starring Boney Kapoor's son Arjun and Parineeti in the lead role. When you look at the promos of Habib Faisal's spunky love story, you wonder if she, who spent some of her crucial years in England, perhaps, strutted around in designer labels, listened to international music and lived a global city life, could relate to the heart and mind of a small town girl character she plays in Ishaqzaade.
"I have lived in Ambala, so I have seen the small town life. Maybe I am talking like an actor, but if you love the character then it doesn't matter, you just become a part of it and start believing that you are that character. For three months Arjun and I had become Param and Zoya," she says and continues "It was not far-fetched at all. I loved it 'coz relationships are so different in a small town. Having a relationship in a small town is completely different from being in one in a city like Mumbai. Ishaqzaade is interesting coz the lead pair hates each other, but has fallen in love and that too in a small town. So now they are stuck."
While she cherished playing the part of Zoya, her first thoughts on the character were: "She is actually a janwar (animal). The guy, who loves her, tries to flirt with her and she threatens to shoot him. If he comes closer, she bites him. And when he tries to scare her with a gun, she snatches it away and slaps him back. When I read the script, I told Habib sir, they are not human beings. He was thrilled; he said if the character excited me, then I was good to go for this role. Parma and Zoya are always bickering, abusing and beating each other. It's not your typical Yash Raj film where I am dressed in chiffon saris and singing songs in Switzerland!"
Would she want to do that? Parineeti's laughs unabashedly and says, "I would love to do that! I am the most commercial audience ever. I don't think anyone can like masala films as much as I do. So obviously I will do films that I like to watch. I often complain to Adi that he gave me two films but I didn't get to sing in chiffon sarees in either of them. He tells me to have patience."
Speaking of patience, will she have any endurance when people compare her to Priyanka and start printing gossip stories? "If Ricky Bahl had not done well for me, then people would have said Priyanka's sister is a good actor, but she is Priyanka's sister! I would understand that coz I didn't prove anything in my first film. But I wanted to prove that I am good, not coz didi ko nicha dikhana hai (try to show that I am better than my sister). Never! She is ahead of me by ten years. Even if I run, I can't catch up with her. I want to be Priyanka's sister, but I want to be Parineeti Chopra! I will always be her sister, that's the truth. I want people to say that Priyanka is a very good actor, but Parineeti too is a very good actor!"
And what about her becoming fodder for gossipmongers? She seems to know the tricks of film trade, all thanks to her experience as a public relations person at YRF. "I am 100 per cent okay with it! Not only link-ups stories, anything that is written about me, it has to be true and if it's not true, then why should I cry! I am an actor, so I am a public figure and these stories will appear in newspapers, so we shall see when that happens. If there's something untrue, I will question it!"
But she doesn't stop, Parineeti goes on about the love hate relationship between stars and the media. The Ishqazaade leading lady says, "Someone asked me what I thought about the media. I said I don't think the media lies! They will only print what you say. But there is one more truth that whatever stars say, the media adds a little of mirch masala to spice it up. I understand that they have to sell their newspapers. Even if I tell my friend something, I am bound to spice it up. So I understand that the headlines and articles have to be interesting. I understand journalists completely and it's their job!"
For someone who knows how to use the right words at the right time, the struggle to stardom is half-won. Rest depends on Parineeti's next film Ishaqzaade, which releases on May 11th. Knowing that PC's cousin has received the best debutant trophies at most award functions for her miniscule role in LVRB, we doubt if she won't impress us with her first film as a leading lady too!