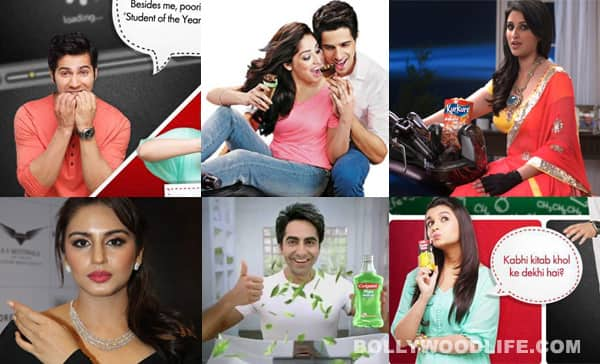 skip advertisement
Stars-brand-endorsement-merged
A whole horde of brands are flocking to these debutant actors, wanting to cash in on their new found fame and future stardom
The media and advertising industry in India literally rides on the back of movie stars and cricketers. With limited number of topnotch cricketers and A-list celebrities, the paucity of famous faces, at times, becomes a very pressing issue. There are only so many Khans and Kapoors that various businesses can use as brand ambassadors. And with a host of companies wooing a handful of established names, the actors are spoilt for choice and play a game of catch with these advertisers.
To end this dangerous demand-supply tilt, advertising agencies have chosen the best way out – cast newcomers who have potential to become the stars of tomorrow. Ad guru Alyque Padamsee says, "There is a thirst for stars in the advertising industry. There are very few left to choose from. For example, the brand I have been associated with, Emami, has worked with at least 12 to 15 big stars! Shahrukh Khan to Kareena Kapoor, they have almost worked with everyone. So the question is what to do next? " And here come the modelling agencies to our rescue, says the veteran ad man. "Modeling agencies at times suggest advertising companies if they have interesting clients. For example, look at Anushka Sharma. She was a model before she became a star, and she was doing several advertisements before she became an actor. So as soon as she became an actor and her films were a hit, all the brands who had signed a contract with her were happy since they could now capitalise on her newfound fame. So, companies like to capitalise on such talented people," he opines.
And this is a recurring phenomenon. Padamsee recalls Aishwarya Rai as a newcomer when he cast her in a cola ad. "When I worked with Aishwarya Rai, she was an unknown face. But she went on to become a superstar, and the brand she worked with at that time got a lot of advantage because of that," says Alyque, also recollecting his fond memories of working with the likes of Zeenat Aman and the late Persis Khambatta before they made their foray into films.
So to tide over the dearth of big faces, the latest crop of debutants are bombarded with crores worth endorsement deals.