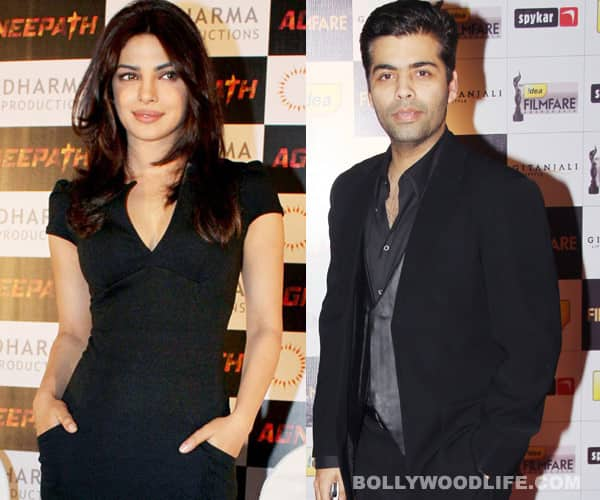 Well, the two may soon become friends again if director Tarun Mansukhani succeeds in casting Piggy Chops in his next movie to be made by Dharma Productions
We've talked about the rift between Priyanka Chopra and Karan Johar and the fact that Tarun Mansukhani will no longer be directing the sequel to Dostana. So then what is this movie that's making the grapevine go bzzzz?
Apparently Tarun has decided to direct another movie under the Dharma Productions banner and thinks that Piggy Chops would be apt for the role of heroine in that one. But hello, KJo and Priyanka have not kissed and made up yet, have they? So what makes Mansukhani think that Karan will be fine with his choice of heroine?
"Karan has apparently told Mansukhani that it's the director's call to cast whoever he wants. However, whether that translates into getting Priyanka back into the Dharma fold remains to be seen," an insider revealed. Hmmmm, now that's so typical of our diplomatic Karan Johar, no?
What's more, Tarun also desires to cast Pee Cee's costar from Dostana, Abhishek Bachchan opposite her in this film. Ahem ahem. And we hope that's okay with Bachchan Jr, who was miffed with Priyanka for calling herself AB's favourite actor when Abhishek had always maintained that it was wife Aishwarya Rai Bachchan who ruled his pet-partner list.
Anyway, as of now we see many road blocks popping up in the way of Mansukhani's movie. So do you think Tarun is being practical in his endeavours? Time will surely tell, but what do you think, readers – will Priyanka and KJo shake hands again to make this movie?