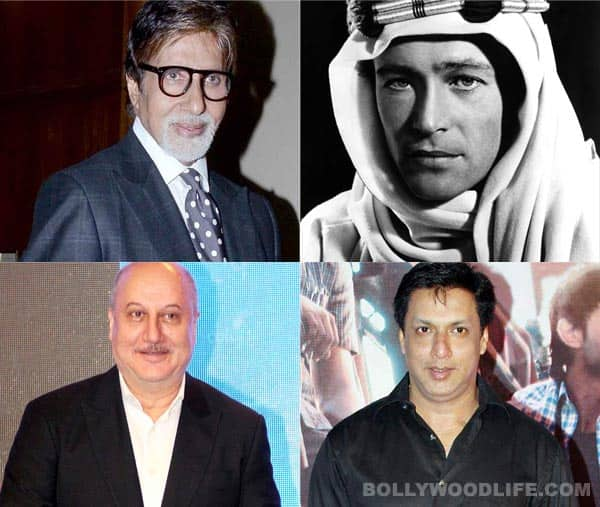 The legendary actor passed away because of long illness at the Wellington Hospital in London
81-year-old Peter O'Toole, best known for his role in Lawrence Of Arabia, died on December 14 in London. The actor spent close to six decades in Hollywood and won Oscar nominations for his roles in Becket (1964), How to Steal a Million (1966), The Lion in Winter (1968), Goodbye, Mr. Chips (1969), The Ruling Class (1972), The Stunt Man (1980), My Favorite Year (1982) and Venus (2006). Actor Kate O'Toole, his daughter, said that their "family is very appreciative and completely overwhelmed by the outpouring of real love and affection". "In due course there will be a memorial filled with song and good cheer, as he would have wished," Kate added. Peter, who suffered from ill health since long, announced his retirement from acting in July 2012.
Bollywood celebrities like Amitabh Bachchan, Anupam Kher and Madhur Bhandarkar too, took to Twitter to express their grief about his tragic demise: 
Amitabh Bachchan: What? Peter O'Toole no more! That is most sad!
Anupam Kher: My first acting job was of an extra with Peter O'Toole in Kim. I had one line with him. His presence and performances were mesmerising. RIP.
Madhur Bhandarkar: Peter O'Toole was one of the acting world's most charismatic figures. His memory will live on for decades to come. RIP.
Abhishek Bachchan: So sad to hear of the passing of Peter O'Toole. Lawrence of Arabia is one of my favourite films. A huge inspiration to all actors. RIP.
Mahesh Bhatt: Long fade out! Peter O'Toole has died aged 81.
Randeep Hooda: RIP Peter O'Toole…Legend!
Shekhar Kapur: Goodbye Peter O'Toole. Lawrence of Arabia. Lion in Winter. Becket. Unforgettable.
Kunal Kohli: Lawrence of Arabia and Becket two of my favourite films. RIP Peter O'Toole.
Manoj Bajpayee: RIP Mr. Peter O'Toole! Thanks for your performences! Thanks for guiding us through all the great work that you have put in front of us! Loss.
Siddharth: RIP Peter O'Toole. Greatest debut in film history. Many memorable performances to show he wasn't just lucky. Time to re-watch his classics.