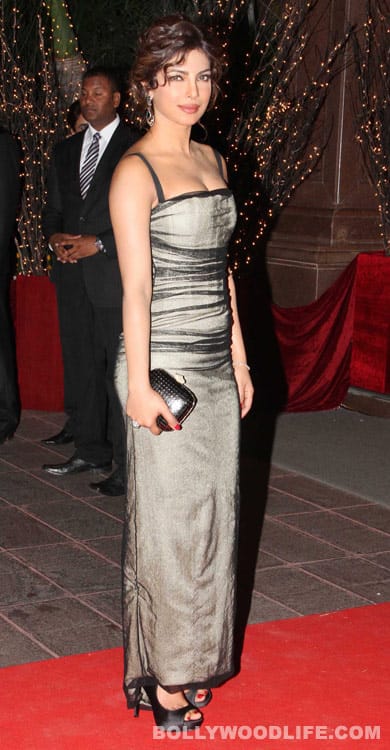 skip advertisement
The much-discussed birthday bash was indeed one of the 'biggest' events of B-town. Wanna know who made it and who missed it? Whose outfit was hot and whose was not? Then read on…
After being the talk of B-town for a while, Karan Johar finally celebrated the D-Day or rather the B-Day last night. And mind you, it was nothing short of a red carpet event, my dearies. Yup, celebs sashayed down the red carpet (literally) in the best of attires.
What's more, while outfits of actors such as Bipasha Basu, Karisma Kapoor, Urmila Matondkar made us gasp with delight, there were certain others that we just couldn't help but tag as..umm…interesting. For instance, we saw Ekta Kapoor, the karta dharta of Indian television, wearing a flowing blue gown with her bosom spilling out, well, almost. Next up was Rani Mukerji, who looked as if her dress was made to fit anyone else, but herself. Then there was Parmeshwar Godrej who looked no less than a fairy grandmother. Thankfully, the men played it safe by sticking to black tuxedos.
Anyway. Moving on from the outfits, the big news is that Priyanka Chopra indeed made it to buddy dearest, KJo's birthday bash. Awwwww. Since the lady decided to forgo that much-needed sleep she kept tweeting about, for a friend, we can guess how strong the friendship must be. Right? So guess, KJo, Priyanka, Gauri and Shahrukh Khan have let the bygones be bygones, at least for this one night, and came together like one big happy family. Just like those in KJo's movies, no? Wink, wink.
Others who made it to the bash included Vidya Balan-Siddharth Roy Kapoor, Sanjay-Maanyata Dutt, Riteish Deshmukh-Genelia D`Souza, Anil-Tina Ambani, Goldie Behl-Sonali Bendre, Vidhu Vinod Chopra-Anupama Chopra and actors Boman Irani, and Ronit Roy came with their respective wives.
Dear friend Kajol arrived with sister Tanisha, Kareena Kapoor was seen in a short floral dress with sister Karisma Kapoor in a sleek LBD while Shahid Kapoor made a solo entry.
Celebs, who apparently missed the party were Amitabh Bachchan and Salman Khan. Tch tch! It would have been such fun to see Shahrukh and Salman under one roof, no? It wasn't destined to be so, perhaps.
But don't let that dampen your spirits, Bollywoodlifers. 'Coz here's a dekho at the invitees who attended Karan Johar's 'big' birthday bash! Cheers!
ALSO READ:
Karan Johar's guest list: Priyanka Chopra was always on it!