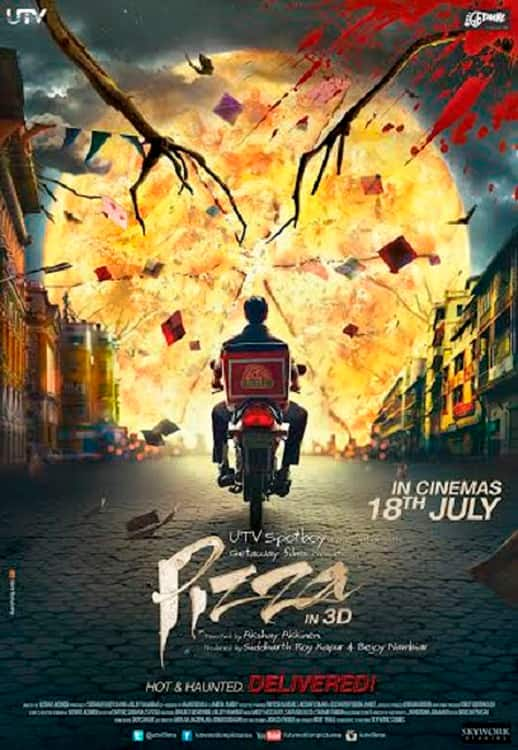 The Akshay Akkineni directed film is plot wasted
What comes to your mind when I say horror? An eerie background score, a girl reverse walking the spider steps (like in Exorcism), a few popping up on your face horror moments (like some of the pop up videos coming on your mobile phones) and some good horror make up for your cast. Akshay Oberoi, Parvathy Omanakuttan, Dipannita Sharma, Arunoday Singh starrer Pizza 3D has all of that. But that's all that it has and there is nothing different in it.
However, there is something wrong on the part of the makers of the film. Rather than promoting it as a horror film, they should have promoted it as a suspense mystery, it would surely have done better to impress us.
What it is about:
The story goes like Akshay Oberoi, a pizza delivery boy, gets stuck in a haunted house where he goes to deliver a pizza. What all happen to him inside the house, how he manages to come out of the house, is he able to have a stable life post that traumatic incident, forms the basic story line. Well at least that's what the makers made us believe with the trailer and the promos.
On the contrary it should have been promoted like Akshay Oberoi and Parvathy Omanakuttan are married but not yet stable with their collective family income. Amidst that Parvathy gets pregnant. They want to have the baby but they don't have enough money. So how far will Akshay go in order to take his family out of this condition of misery, should have been the promotional story line of the film.
What's hot:
The first half. However the first ten minutes fail to impress but post that the makers managed to do well. They implemented all the horror tactics that have ever been used in horror films since ages. And trust us, all of them do manage to get a chill run down your spine (Well, sometimes at least).
The music too is good. Mikey McCleary, Saurabh Kalsi and Shamir Tandon have done a great job. Also the background score by K aka Krishna Kumar is fabulous.
The 3D effect has also been brought out well enough. Seeing some good enough horror scenes in 3D do make you almost shit in your pants.
The short length of the film also impresses as most H-Town horror flicks do manage to keep is short and to the point, which creates the horror effect better.
What's not:
The second half. The movie goes bonkers in this half as you are unable to make any sense of what is happening. When the climax comes you are unable to judge as to why all of this happened. Even a layman would have very easily come up with a much simpler way of presenting the film to the audience (which would have made more sense also).
At the climax you get to know that this is not at all a horror film. On the flip side, it is a suspense mystery, which could have been good had the makers promoted it that way.
Akshay Oberoi is not bad but he is present in almost 95 percent of the scenes. That makes you have an over dose of him, which is not good at all. The rest of the cast like Parvathy, Dipannita Sharma, Arunoday Singh and others are hardly visible in the film.
What to do:
If you get scared by the thought of watching a horror film, then this is the film for you. For the rest of us who rationally and logically watch the film better to go a pizza joint and have a pizza rather than watching Pizza 3D.
Rating:
out of 5
Reviewed by Prateek Sur
* Poor
** Average
*** Good
**** Very good
***** Excellent