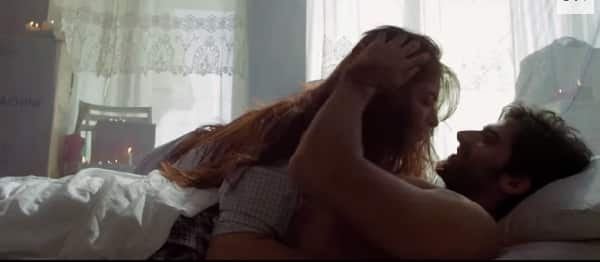 The song picturised on the lead pair of the film has nothing new to offer
Indian filmmakers always tend to mix drama or romance in thriller stories. After Ek Villain, Pizza 3D seems to be following the suit mixing drama and romance to a horror genre. At least that's what the song Tum chal diye from Pizza 3D suggests. The song features ups and downs of relationship between the leads Akshay Oberoi and Parvathy Omanakuttan. The song takes you through the pysche of Kunal played by Akshay Oberoi as he walks us though good and bad phases of his love life with Parvathy. Bollywoodlife tells you what we like and dislike about the song.  
What's good: The mildly melancholic song is soothing to ears. Parvathy Omanakuttan looks ravishing in parts of the song. The flashback sequences have been intentionally shot with grains, lines and black blips popping now and then giving the video an old world charm. The video finishes spectacularly with the heroine's unexpected encounter with the dead, telling us that horror is director's stronghold.
What's bad: The chemistry between the lead pair fails to click. The romantic montage featuring Akshay and Parvathy has nothing new to offer. Bollywood is filled with plethora of sad songs about broken relationships and this song is nothing more than an addition to the long list of such numbers. Tum chal diye from Pizza 3D is one time watch! Now we fear if yet another Indian film will kill the thrill for sake of an unwanted romantic drama.
Watch the song below!