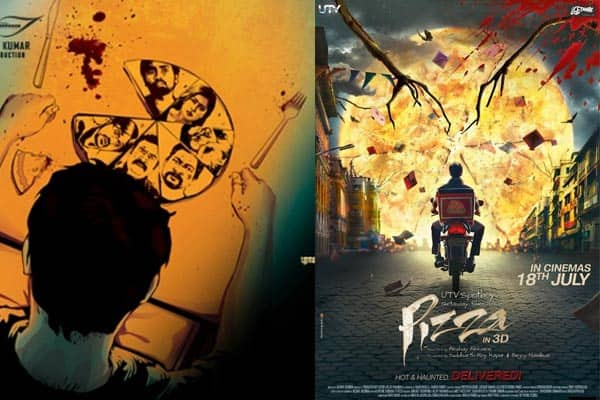 As Pizza 3D has hit the screens this  week, Bollywoodlife brings you a comparison between the remake and the original Tamil film
When ever a film is remade, the comparisons are inevitable. But when you are remaking a hit horror film with no known stars, the onus lies the screenplay and direction to send the chills down your spine. In a industry where horror is neglected except for Ram Gopal Varma and Vikram Bhatt making an occasional scare fest, Bejoy Nambiar and debutant director Akshay Akkineni need to be lauded for trying a hand in horror.
Bollywoodlife brings you 5 things which did not work for Pizza 3D but worked wonders for Tamil film Pizza:
While Pizza 3D did not just rely on creepy atmospherics and made use of ghastly looking corpses doing the famous backward spider walk from The Exorcist, Pizza directed Karthik Subbaraj made good use of the old school scary tactics without much gore. While using gory horror is not bad, they just come off as unevenly executed in Pizza 3D.
The Tamil film starring Vijay Sethupathi did not try hard to scare you, the makers of Pizza 3D seemed desperate to scare the daylights out of you trying  too hard to induce fear in the audience.
Akshay Oberoi as an actor is alright, but he cannot be compared with the histrionics of Vijay Sethupathi, the hero of original, who is a brilliant actor and has carved a niche for himself in Tamil cinema in short span of time.
Using 3D in a horror film is a good ploy, but one has to make sure that the effects are consistent. Unfortunately, that does not happen with Pizza 3D, which gives a few scary moments but falls flat in some scenes where 3D effect has not come out properly. Even Hollywood films have not cashed in completely on effects of  3D till now, so there is not much to blame Mr Nambiar and Mr Akkineni.
Pizza 3D's wide scale promotions might have led to its downfall as people who were promised of horror, feel cheated as they get a suspense thriller instead. On the other hand Tamil film Pizza, which got limited marketing, clicked because the audience did not set any expectations with the film and were surprised to view a new kind of cinema from a debutant director with a widely unknown cast.