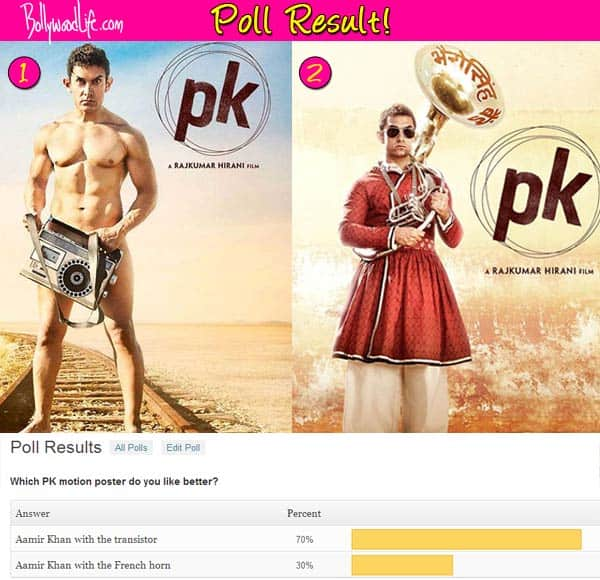 With both the motion posters of PK making waves across the nation, we pitted the two avatars of Aamir Khan against one another. Here's what fans had to say
Mr Perfectionist Aamir Khan is known for making heads turn with his unique choice of roles and films. But this time around, Aamir Khan has captured the nation's imagination with the motion posters of PK. The first motion poster which featured the Dhoom 3 star in a semi nude avatar, created quite a furore among the masses, which was followed by yet another poster which took a sarcastic dig at its predecessor.We put up the two trending posters of Aamir Khan's PK together and asked fans which one did they like better. And here is what the fans had to say. According to the poll results, the masses liked the nude poster of Aamir Khan better as compared to the one where he is dressed in a traditional Rajasthani attire. While the first motion poster, which featured a nude Aamir with a transistor, got 70% of the votes, the second poster featuring Taalash actor along with a french horn, garnered 30% of the votes. We believe the shock factor was missing in the latest PK poster, which led to the unprecedented victory of nude PK poster.
At the end of the PK poster wars, one thing is clear that the fans prefer Mr Perfectionist's nude avatar when compared to his french horn wielding, band wala avatar. With more PK posters promised to hit the internet in weeks to come, we wonder if any one of them would manage to beat the transistor holding Aamir Khan in terms of popularity.