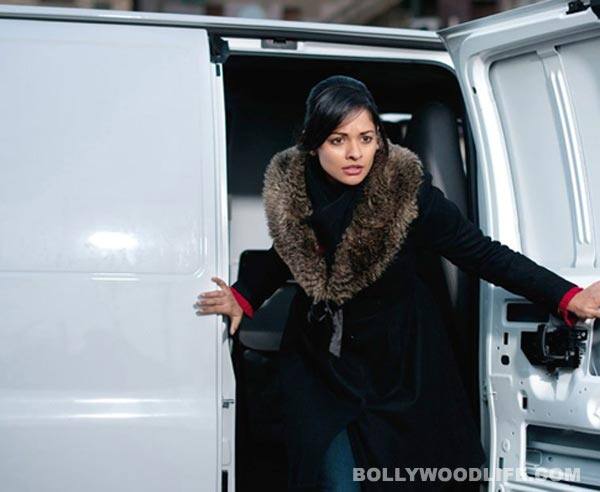 Kamal Haasan's leading lady in the controversial Vishwaroopam speaks exclusively to British journalist Ashanti Omkar about her experience working with stalwarts like Kamal Haasan, Shekhar Kapur and Rahul Bose
Tell us a bit about your background and upbringing….
I was born in St Louis, Missouri, but travel quite a bit from the US and India working on various projects. My greatest highlights would have to be winning the Miss India USA contest, getting invited to join ABCL (Amitabh Bachchan Corporation Limited) to learn acting and eventually enter the film industry, having my face on all the New York City buses during the promotion of Bollywood Hero – in which I played the main lead opposite Chris Kattan – and currently working with a legend from the Indian film industry, Kamal Haasan. I am truly blessed for getting an opportunity to work with a man I admire and respect tremendously.
You changed course from studying politics to entertainment – how did that come about?
I always had a passion for the arts, as my mother introduced me to Indian classical dance and had my first stage performance at the age of three. My friend Sunju would play the tabla and I would dance to the song Madhuban main Radhika, an old classical Kathak number. I always did plays and musicals while growing up, but never thought of it as a profession until an opportunity came knocking at my door.
Splitting your time between India and USA – how has that been for you?
It's been great for me. My family is in the US, and they are my pillar of support. I think if you are hard working and talented, it doesn't matter where you are; the work will find you. You just have to keep creating and inspiring. I'm keen on doing more movies where I can bridge the gap between Hollywood and the Indian film industry. It would be great to look for ways in which we can work together and make some groundbreaking cinema.
You've dabbled with Hollywood, with films like Man on a Ledge – tell us about that experience.
It was an honour to share the big screen with Ed Harris, as he has done a variety of roles. I was very nervous at first because he has a certain presence and I wanted to make sure I was ready for anything. That was a shoot I will never forget!
How did one of India's most high profile projects, Vishwaroopam come to you?
Gouthami ji, who has also done the styling for the film, saw my work online and recommended me for the project. The production contacted my manager and we set up a Skype call with Kamal sir. We spoke for about five minutes and he said that his team would get back to me. The next day I get a call and I'm on the plane to Chennai to shoot the film! This was what is so amazing about technology today – you can be anywhere in the world and get great work. I am very thankful to them for allowing me to be part of this wonderful project.
Do share a little about your experiences with Gouthami – who happens to be Kamal Haasan's girlfriend – and the looks she's created for this epic action film…
She is an extremely talented and humble person. The costumes for the film are very stylish and very appropriate for the characters. It's not like your regular Indian movie. There are fight sequences, policemen, soldiers, and a variety of ethnicities, so the amount of research that went into making these was quite a handful. The audience will be in for a wonderful treat!
Tell us about working with Kamal Haasan – a legend in the world of Indian cinema…
On the first day I was scared, as I knew no Tamil and I was giving a lot of takes to make it happen, but he said I was on board after I thought I'd be ousted from the project for messing up. He looked beyond that – he wants people to come up, especially newcomers, who don't get so many opportunities. I realised what a wonderful human being he was, and my nervousness transitioned into confidence. This has been a life changing experience for me. Working with a man of his stature and calibre has been a gift I will cherish forever. His passion, tenacity, versatility, and humbleness drives you as an artiste and pushes you to achieve excellence. He is the epitome of a great artiste because he pushes the envelope to newer levels. Standing next to him on set was an incredible experience, because his knowledge of filmmaking is extraordinary. I still have to pinch myself and say that I worked with an icon. It's been a dream come true!
Kamal was not just the hero in this film, but took on many roles…
This is my first time working with an actor who is also the writer, producer and director, so it was quite an eye opener for me. When we were rehearsing the scenes he was my director and then when we were ready to shoot, I shut off the director and switched to the actor who is my co-star. What was so fascinating to see was that he seamlessly transitioned between roles. There was no hesitation or conflict in his mind of what had to be done. This is one of the biggest films to come out of India, so we should all commend him for the effort. His patience and humility was astounding. Moreover, I grew up watching him since Ek Duuje Ke Liye and I have experienced how he's kept reinventing himself, allowing an ever-changing connection with the audience. He's got remarkable stamina and he's such a talented dancer and he does it in a very authentic way while also exuding the correct level of emotion.
What was it like working with Andrea Jeremiah, who is quite well known in South Indian cinema as a singer and actor?
Andrea is a very lovely human being and I wish her the very best. We had a great time shooting together and I would love to work with her again. She helped me with my Tamil dialogues, which was wonderful.
How about Rahul Bose – an extremely talented chap…
Rahul is a very versatile actor and although we didn't get to work in any scenes together, I'm happy that he has been a part of this film. I met him briefly during the shoot and I do hope I get a chance to act with him.
Working with the legendary Shekhar Kapur must have been interesting…
I was so excited when I heard that I was going to be doing scenes with Shekhar ji. His vision, storytelling, and direction are truly unique and we should celebrate people like him. It was truly an amazing experience for me, being able to listen to two greats, Kamal sir and him share their film stories and projects. Hopefully we will work together soon.
Tell us about your role of Nirupama and how it fits within the synopsis of the story…
I play a nuclear oncologist and I'm married to Kamal sir's character Viswanath. We live in New York and I basically married him to get my PhD and green card so that I can pursue my career. My character is working on curing cancer (something spurred on by the death of her father). However, my life is not what I thought it would be and my husband has more to him than meets the eye! Viswanath is a character who is a Kathak teacher and we have a marriage of convenience initially, but our story develops as the narrative goes on. I feel that Kamal sir writes wonderful female characters in all his movies, including this one. His female roles are filled with sub-texts, fine nuances and so much character, all of which stems from good writing.
The music by Shankar-Ehsaan-Loy has been making waves – any favourites?
They are an extremely talented group and I had the privilege of being in on their jam sessions. The way they make music on the spot is incredible and truly original. In this movie my favourite song is the Kathak song – Unnai kaanadhu naan (Tamil)/ Main Radha tu Shaam (Hindi). Since I learnt dance with Birju Maharaj and Om Prakash Mishra, this song is especially close to my heart. After a long time the audience will be hearing such a lovely classical number and I know everyone is going to love it. Unfortunately, I don't have any song and dance numbers despite being the heroine, which is unusual. A story like this is a drama and action movie and it didn't go with the storyline for my character, alas! It is all about what fits in the movie and Kamal sir is very true to his storytelling.
You've garnered quite a few fans already – any messages?
Thank you for all the love and support! It's because of your love that I keep on striving for excellence and the want to give you all something new to see every time. Keep watching movies, as we love making them for you and Vishwaroopam is an action ride that you are bound to thoroughly enjoy!
Click here for more exclusive Ashanti Omkar interviews for BollywoodLife.com