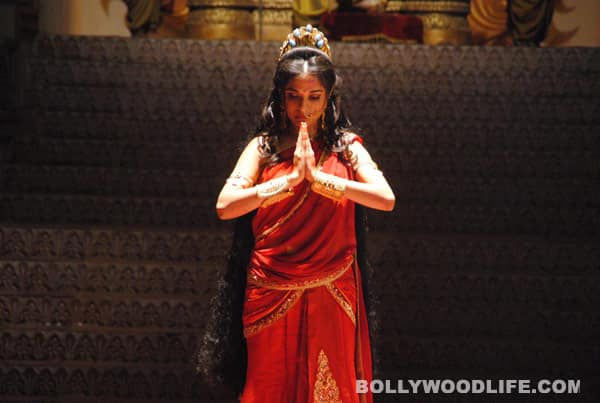 skip advertisement
The war of Mahabharat – Kurukshetra revolves around the insult the Pandavas bared when Dushasana does Draupadi's vastraharan on Duryodhan's orders.
Yudhishthira lost Draupadi in a game of dice to Duryodhan. This sequence is considered the highest point of Mahabharat. The game of dice is going on in full swing and audiences are glued on to it on Star Plus' Mahabharat, which will showcase the cheerharan episode this week.
Pooja Sharma who plays Draupadi said, "The role has given me immense satisfaction as an actor, I can't even express in words what I felt as a woman while enacting the vastraharan sequence. And if someone thinks that Draupadi must have felt weak during the Vastraharan act, viewers should see the episode to get the real picture. I am very thankful to my writers and producer Siddharth Kumar Tewary to have interpreted the scene so perfectly. Nobody would have imagined the incident to be depicted so well on screen. It was a phenomenal experience to shoot the scene and I really loved every bit of it. I felt empowered and strong as a woman and am sure Draupadi too must have had the same feeling."
On being asked about the vastraharan sequence, producer Siddharth Kumar Tewary said, "The game of dice is the very basis of Mahabharat. Pandava's and Draupadi all are present in a critical situation. It is the focal point of the epic. It had to be presented in a unique way to the audiences. Krishna helping Draupadi would also be interesting for viewers."
On being asked about being appreciated for Mahabharat he says, "Creating the Mahabharat is an honor for me and each and every person including Brother Rahul Kumar Tewary at Swastik Productions. It's been a life changing experience and I'm blessed by my father to be able to achieve this challenge. When I started working on Mahabharat I didn't believe I would be able to do justice to the epic, it took me a lot of time to just understand the text, every minute I used to think of how will we tell this story to the today's viewers, whether they are open to viewing a different interpretation and many more questions. Finally we came on air after four years of hard work and it feels blessed to see that viewers have loved our work and I'm ecstatic with what we achieved so far, I believe we have interpreted the same Mahabharat story in our own way and viewers have appreciated it".
On being asked about the kind of compliments he receives, Tewary says, "When the likes of Mr Salim Khan, Mahesh Bhatt, Sooraj Barjatya and Ashutosh Gowariker appreciate your work, there is nothing more one can dream of. They have achieved a lot in this industry with their unparalleled talent and sheer hard work so coming from them I consider it big. I am deeply touched by the words of appreciation by such legends. TV fraternity has also loved the show".