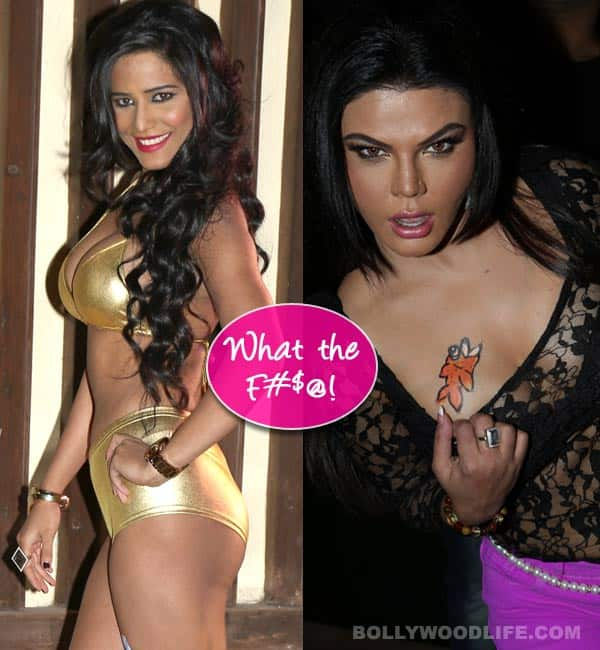 skip advertisement
Poonam-Pandey-Rakhi-Sawant-1
While Poonam Pandey got her dangerously short bikini stunt horribly wrong, Rakhi Sawant flaunted her fish tattoo carved on strategically right…err surgically enhanced place with amazing cheerfulness. Take a look at the picture gallery and tell us who sizzled and who completely fizzled with their histrionics
Poonam Pandey is rapidly encroaching upon the space that once rightfully owned by Rakhi Sawant. While Rakhi is not making enough noise these days with her loud mouth, the Pandey babe is generating ripples in the internet space with her bold pictures. We spotted the two ever-hungry-for-attention gals at a party thrown by none other than Dimple Kapadia at the pre release bash of Dimple's forthcoming movie What The Fish! And both Rakhi and Poonam made us go WHAT THE F#$*!! with their relentless tamasha at the do!
Poonam simply let us down with her watch-my-starry-booty show when she turned up in a jhattak golden bikini. Her otherwise curvy body did not quite look desirable in that golden two-piece. The garish make up and the not-so-toned dusky behind simply made us grin ear-to-ear with uninhibited wickedness.
And then there was Rakhi who simply made us roll on the floor by showing off her recently done fish tattoo that was plastered on her surgically elevated bosom. The two looked wooing the camera with total zabardasti!!
Now you take a look at this picture gallery and tell us who is more desperate of the two?