Twitter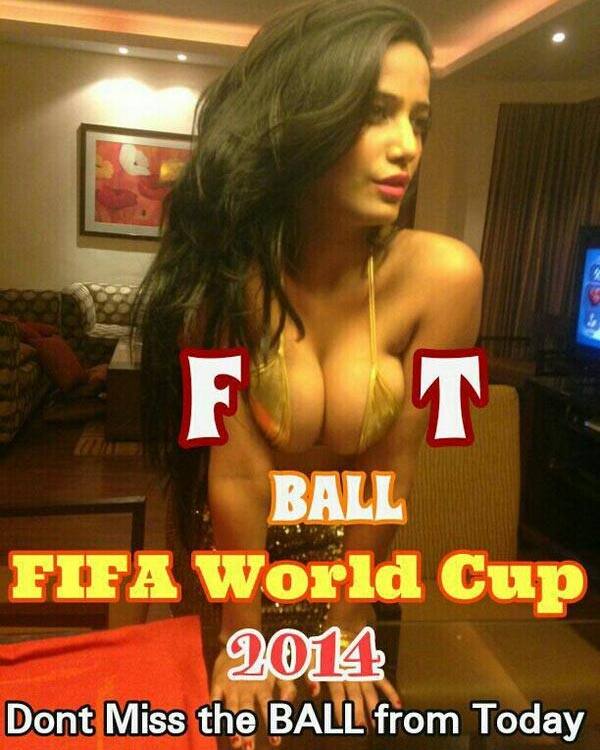 skip advertisement
The soccer world cup is the most viewed sporting extravaganza across the globe and here's our unrestrained bikini babe trying to promote it even further
Poonam Pandey has been an avid sport follower. If we recall she had promised to give an incentive to the Indian cricket team by posting her nude pic once they won the World Cup (unfortunately that never happened!) Now she has tried to give a thump up to the FIFA World Cup 2014. Want to know how?
Poonam has posted a pic of herself on a social networking website, which shows off her assets in no less measure. And in that photo she has urged her fans to watch the FIFA World Cup. She has also pledged her fans support to Brazil by posting another picture of herself wearing the hosting nation's football jersey.
On one hand John Abraham is trying to promote the event by hosting a show on a national television channel which is telecasting the World Cup in India and on the other hand we have Ms Pandey who is promoting it online. So what do you think BollywoodLifers, will Poonam Pandey's promotional incentives be any good for promoting the soccer world cup?
Other celebs who are promoting the World Cup
Shah Rukh Khan
Ranbir Kapoor
Amitabh Bachchan
Salman Khan
Ram Kapoor
Ritiesh Deshmukh
Abhishek Bachchan