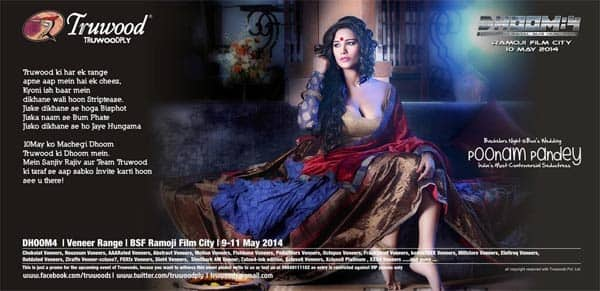 The Nasha babe is trying every trick in the book to fetch the much needed attention! This time she decides to cash in on the brand Dhoom!
Poonam Pandey is all set to defy the conventional wisdom that can be best captured by the popular proverb 'once bitten twice shy'. We told you how Pandey had a narrow escape at the New Year party when a group of lecherous men chased her all the way to her room, in spite of the heavy security measure in place, with the hope getting a piece of Pandey sensation. But it seems that Poonam doesn't give such instances a damn. In fact she is inviting her fans to attend a bash at Ramoji Film City in Hyderabad where the Nasha hottie will perform a striptease. So loud, bold and explosive will be this event, Poonam boasts, that she has actually called it Dhoom: 4!
"Tweethearts! Party with Me in Hyderabad..at Ramoji Film City on 10th May….. a Huge Surprise for you ;)" urged Poonam on her micrblogging site. As if her raunchy surprises are not enough to shock her fans Poonam is now gearing up to do something outrageously unthinkable. Now put your naughty imagination to use to tell us what this surprise act could boil (read stoop) down to?