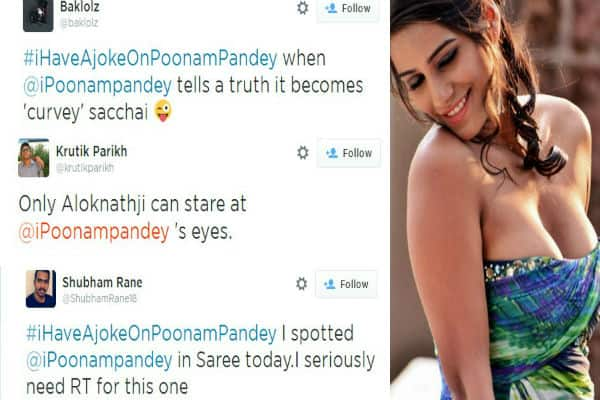 Move over jokes on Alia Bhatt, the self-proclaimed model who shot to fame due to her aversion to clothes has been trending on social media!
The way-too-bold Twitterati Poonam Pandey never stripped all the way when India won the World Cup. But she never disappoints her followers as her seriously revealing pictures on Twitter keep her audience occupied.
The sexy siren even gets her name to trend on Twitter by asking her "tweethearts" to tweet about her with a hashtag. Recently, Poonam asked her fans to make jokes on her under the hashtag #IHaveAJokeOnPoonamPandey. Here are some of the funniest tweets! (we had to omit the jokes that went overboard because you know sanskaar):-
#iHaveAjokeOnPoonamPandey but it is Too Sanskari !!!
#iHaveAjokeOnPoonamPandey her movie Nasha
Once Ranjnikant said "hi sexy..!!" to a girl.. That girl today is known as Poonam Pandey..
#iHaveAjokeOnPoonamPandey she is better than Rakhi sawant
#iHaveAjokeOnPoonamPandey She is going to switch roles with #AlokNath who will strip if #India wins & she'll cover herself
#iHaveAjokeOnPoonamPandey A survey released today states 3 in 10 Indians are poor…Poor ppl like @iPoonampandey deserve basic clothes! 😉
Currently Poonam Pandey is promising her fans that she will strip all the way if Brazil wins the FIFA World Cup. Wonder how that will pan out!
If you have any jokes on Poonam Pandey share them with us Bollywoodlifers!