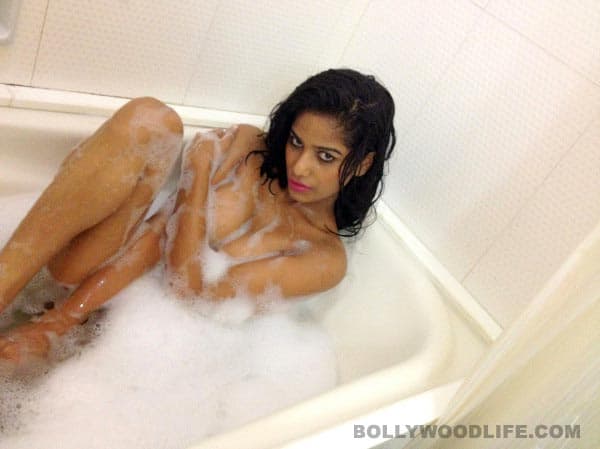 The controversial babe shoots a sexy scene for her film, saying that one has to get into bed to work in movies
After revealing the first look of her debut film Nasha in the raunchiest way possible, Poonam Pandey has started shooting for the film. In fact, the ever-ready-to-drop-her-clothes babe has shot the mahurat scene of her film already. And guess what? The first scene she canned for the film was in the bedroom. "Heard that you need to get into bed to get a role in the movies. Well, I got into bed for my mahurat shot. I shot into bed for my mahurat shot for my debut film," tweeted the 21-year-old wannabe actor.
The makers of Nasha have muddled up the alphabets in the hot poster featuring Pandey in some sensational Kama Sutra-style asanas. And while we know that Poonam readily agreed to throw herself into the rumpled sheets for the mahurat shot, one thing has remained shrouded in mystery so far. Who did the Pandey gal bed..err…have for company while shooting that first sleazy scene?
We at Bollywoodlife will send our secret birdies to unearth that name which has been kept under wraps. All we know for now is the fact that Pandey is happy with her distinct achievement of shooting a first shot that can live up to her wild reputation. Right, Poonam?