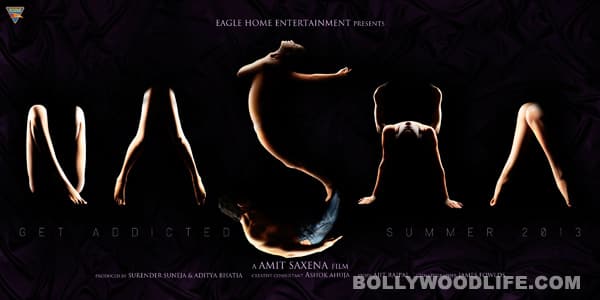 Controversial hot babe Poonam Pandey recently revealed the erotic look of her debut film, Nasha. Remember her yogic pose picture? No? We present you an exclusive, raunchy poster and details of PP's much-touted film. Savour it, guys!
Poonam Pandey has finally made it! The attention-seeking babe has finally made sure that her desperate efforts – read: dare-bare acts – eventually resulted in her bagging a plum project. She has signed on to do her first high-on-erotic-content film Nasha. We don't know how plum this offer is, but after having a look at her first movie poster, we guess it's bound to arouse curiosity – and more – among the male populace.
The former Kingfisher model-turned-actor has been signed on for a film by debutant producers Surender Suneja and Aditya Bhatia. "Nasha is a coming-of-age film. It's for the youth and talks about their addictions, which is the crux of the film. I think Nasha can be of any sort. There are people who are high on life today. Some people need nasha as a crutch to move along in life. It's a film that every moviegoer will identify with," Poonam ecstatically revealed.
Aditya says, "We are making a classy film. Director Amit Saxena has worked with Bipasha Basu and John Abraham in Jism. Poonam's growing popularity is an important facet that we cannot overlook. Adult movies are doing well in the cinemas today and Nasha will show the world that India can also make bold cinema that is still classy."
The makers of Nasha have muddled up the alphabets in the hot poster featuring Pandey in her Kama Sutra-style asanas and have left much to the imagination of the audience. But we have a point to make: If the makers state that they are making a classy film, we would like to remind them that there's a thin line that separates class from crass.
Don't you agree, readers?