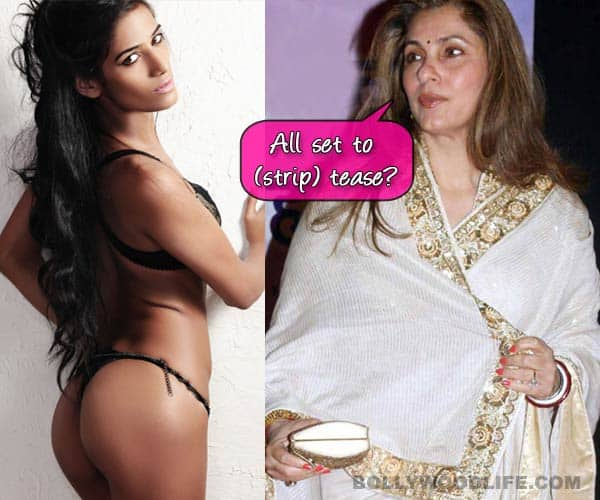 However shocking this bit of news may be, there's no stopping the Pandey patakha tonight! The controversial babe to perform striptease for the veteran actor in a private party
We all know that Poonam Pandey is always itching to drop her itsy- bitsy clothes, to show the stuff she is made of – not that we pay too much attention to Pandey's daredevil acts and her tall claims! But now this news has grabbed our..err eyeballs for the involvement of senior actor Dimple Kapadia in this risqué affair.
Our secret birdie informs us, that Dimple Kapadia is planning a special bash tonight to celebrate the release of her forthcoming movie What The Fish! Apparently, Kapadia has invited none other than Rakhi Sawant and the controversially colourful Poonam Pande, to create the much needed hoopla about the production. While the big mouth Rakhi will make her jhattaak presence felt in her garish avatar, one hears that Poonam will perform a special striptease!
And this news has rolled in on the close heels of the release of another sex bomb Sunny Leone's forthcoming movie Jackpot. Naturally, Kapadia's sensational guests are all set to turn the limelight towards them, for their appearances at the special bash.
Looks like tonight is going to be a very special night, and BollywodLife will certainly be there as the spicy drama unfolds at Kapdia's home. We wonder if the ladies man and Kapdia's daamad Akshay Kumar, will also be there to enjoy a generous dose of visual treat that Poonam is about to offer? Nudge-nudge!