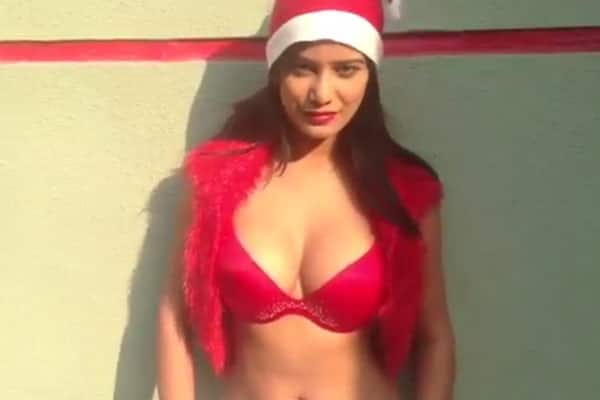 Blame it on her excessively highlighted bosom Poonam Pandey's Christmas special video has gone viral!
Poonam Pandey knows how to exploit festivities to best effect. The Nasha babe goes wild on almost every festival-or even otherwise, honestly speaking! From playing a wild holi to creating big noises on Diwali by using some seductive poses in itsy bitsy clothes, Pandey pataka knows what can help her grab eyeballs.
And now Poonam turns a sexy Santa on the eve of Christams and wishes her fans by showing off her utterly fake……err accent! But what gets definite attention in this wish video is Poonam's heavy bosom which is fairly decorated and kept on display with the able assistance of a red bra. The babe even offers a flying kiss to her fans in the end.
Honestly speaking, the video is as hollow and empty as Poonam's head, but yet such is the popularity of Pandey's inglorious publicity that she has managed to fetch more than 1,00,000 views for what can be truly defined as epic crap!
Take a look at this supaaa-idiotic, nothing-in-it video featuring Pandey's well endowed assets and tell us is if the desperate (for attention) gal is famous just for being infamous!