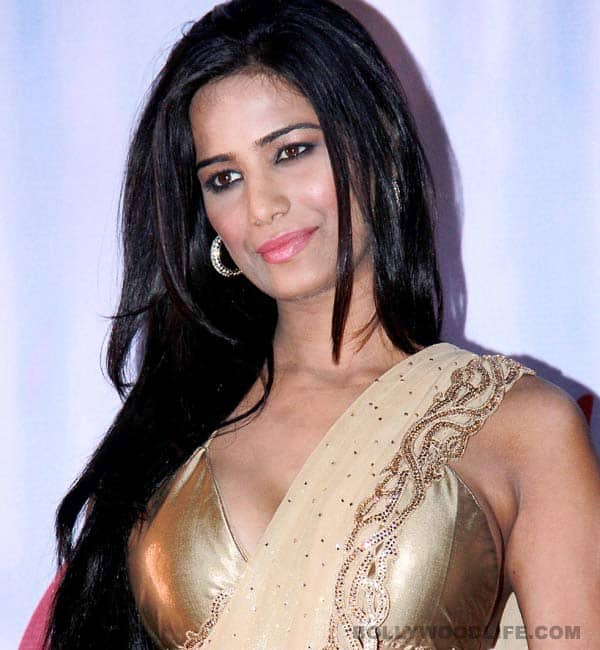 The Nasha actor lashes out at audiences for not accepting her for what she is
The posters of Nasha reportedly irked the members of a political party so much that they pulled it down. Poonam Pandey, who plays the lead in the erotic thriller, says it has hurt her sentiments. "This has hurt me. I don't normally allow myself to get affected. But I never expected I'd be targeted this way for my first film. It has made me nervous," said Poonam.
"I knew I wouldn't be welcomed with open arms into cinema. I've no godfather, no support from the industry. But I didn't expect to be welcomed in this way. What have I done that is so scandalous? I don't think I've ever crossed limits. I've always said more than I've done. I've seen so many posters and hoardings that are far more suggestive than mine. My posters have nothing scandalous in them. I haven't shown my private parts."
"People in this country give so much respect to a hardcore porn actor (read Sunny Leone) from abroad. Whereas I have never done anything that can be considered pornographic. I have never crossed limits. Nasha is not a porn film. It's a proper mainstream Hindi film. Of course, since I star in it, there's skin show. But that apart, there is a lot to take away from the film."
Poonam feels targeted. "Why me? I just feel some elements are trying to cash in on my popularity. What you see and read of me on the Internet is what I am. It isn't as if me and my team sat down and scripted an entirely different Poonam Pandey for the public. It isn't as if I become a different person at home. To my parents' dismay, I am the same at home and in public."
"My parents don't like the way I conduct myself. Though I've been born and brought up in Mumbai, we're from a conservative Brahmin family. My behaviour is quite shocking to my family. Lekin main kya karoon? This is the way I am."
She is quite active on microblogging site Twitter as she wants a direct connect with people. "But as far as Twitter is concerned, I deal with all the questions, controversies and crises all by myself. I like to stay connected to the world on Twitter. It helps me find out what people are saying about me."
Poonam's journey into being an Internet icon began when during the 2011 Cricket World Cup she vowed to strip if the team India won.
Recalling her initiation into super-notoriety, Poonam laughed: "That was quite something. I never expected to get so much attention for it. That incident brought me into the limelight. But it went out of hand. I had 20-25 criminal cases against me. It took me a huge amount of effort to extricate myself from all the trouble. But you know what? It was worth it. That one incident got me more attention than I ever imagined."
The image of the bold brassy rebel does get out of hand sometimes. "There are some people who like to attack me constantly. But it's okay. It's their way of getting attention. Most people on the Internet love me and my pictures. Life is more or less fine. There are some spoilsports."
Poonam candidly admits that she loves all the publicity. "For me, all publicity is good publicity. Unfortunately, my parents don't agree. They don't approve of the things I say and do. They are embarrassed by my image. Every day when I go home after work, I wonder if they've seen or read something more about me that has upset them. It's a constant conflict. But they've now come to terms with what I am."
Poonam says her family has given up on her. "They know, yeh ladki sudhregi nahin. You know what? I enjoy all the controversies. I love being in the news. I take everything positively."