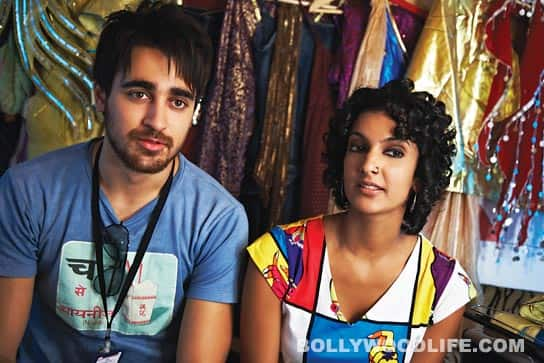 Poorna Jagannathan may not be the first choice for an out-and-out commercial Bollywood film, especially after the unconventional role she essayed in Delhi Belly as Meneka, Imran Khan's alternate love interest. But the actress doesn't rule out the possibility of running around the trees and singing in the rain, if something of this kind is offered to her
Finding a space for herself in Bollywood that is still off the beaten track, working with Hollywood superstar Jane Fonda…all this reads well on her resume. The nonchalant Poorna chats with us about all the interesting things that are happening in her life, the intense kiss with Imran in Delhi Belly and much more…
How are you coping with all the adulation for your performance in Delhi Belly?
Mumbai was an aandhi-like trip. Now that I'm back in anonymous New York, I think I should have milked it more, just parked myself shamelessly at Bandstand! But in all honesty, it was great to meet people who loved the movie so much so that they saw it three or four times and knew all the lines by heart.
Which is your personal favourite scene in the movie?
In the entire movie, it's the paper bag scene where Shenaz Treasury bangs into a wall, which was hilarious. And also the scene when I am at the jewellery store with Imran is very close to my heart.
You think the kissing scene has overshadowed your performance in a way?
Wow – that scene is so tame compared to the rest! The kissing scene is all part of my performance – not really something to be taken out of context. It takes a lot to make an onscreen kiss look natural and in the moment.
What next in Bollywood?
In mysterious talks…
How was your chemistry with Imran, off screen?
We had a pretty professional relationship – on and off screen.
Peace, Love and Misunderstanding with Jane Fonda – what was that experience like?
It was one of those times I realised how intensely lucky I was. Here I am trying to be an actor and I find myself suddenly surrounded by some of the most talented women in Hollywood. There was Jane Fonda, Catherine Keener, Rosanna Arquette and Elizabeth Olsen. It was two unbelievable weeks of learning from some of the best in the business.
Which are some of your favourite Bollywood movies?  And the directors you would like to work with in the future?
Delhi Belly (I'm not being biased) and Dev.D. Huge, huge respect for Anurag Kashyap and, of course, Zoya Akhtar.
Are you willing to run around the trees, croon romantic songs and play the ultimate sweet-saccharin girl, if you got a chance?
It totally depends on who I am running after, the right man or woman. Anything is possible.
What's the one thing you would like to change about the Indian film industry?
Have some more kickass female roles that push the boundary.
Your style statement was very casual in Delhi belly. What is it like off screen?
It is casual…but a little more on the bohemian side.