Prachi Desai: I feel 2012 is a good year for me!
Rachana Parekh
Last Updated: 4.17 PM IST 07.04.2012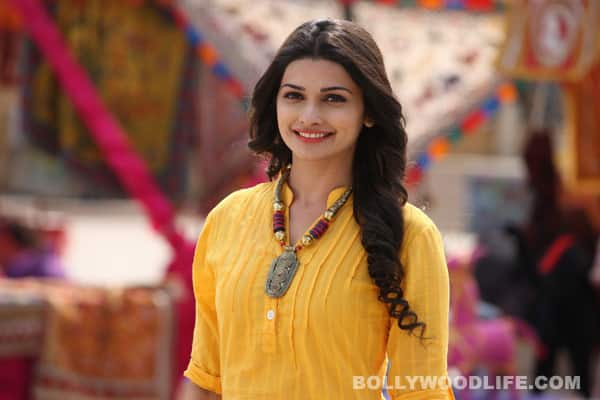 Sign up for the BL newsletter!
Apart from Bol Bachchan, the young actor has I, Me Aur Main opposite John Abraham releasing later this year. Prachi Desai gets chatty about her long absence from the big screen and her first time being funny onscreen
Once Upon A Time In Mumbaai released in 2010. It's 2012 – so why such a long gap from movies?
I have been deliberately taking it slow. I was waiting for the right kind of films to come to me. After doing Once… I definitely knew I wanted to do young and fun roles. When you have Rohit (Shetty), Ajay (Devgn) and Abhishek (Bachchan) together in a film, you can't say no! Also, I have never attempted an out and out comedy before, so I had to do Bol Bachchan.
Since Bol Bachchan is your first comedy, did you have to prepare for the role?
Actually, I was more worried and kept wondering what I was expected to do in a comedy, whether I am supposed to act funny, or just be myself, or let the situation play out. I thought I should watch a few of Juhi Chawla's films, as I am huge fan of her comic acts. But I didn't have to do anything, as Abhishek does all the mad hatter stuff in the film. I am the normal and calming down factor in Bol Bachchan.
Hrishikesh Mukherjee's Golmaal had one heroine and you play that character in Bol Bachchan. But Asin is also in the film. Do you feel you have compromised to be a part of a big project?
I don't think it really matters, 'coz I don't scheme and plot what to do next. When I weighed the options, it was obviously smarter to pick up an opportunity to do Bol Bachchan. Everything works for me in the film. I am getting to do comedy for the first time. I am being paired opposite Abhishek. I am working with Rohit Shetty. This is my second film with Ajay.
After Rock On!! one expected you would do a lot more films. Instead, you have been taking your sweet time in taking your career forward…
I wasn't interested in the kinds of roles I was being offered. I knew that if I did those films, my shelf life would be another two years at the most. I knew I had to wait for roles that suited my age. When anybody starts off, they don't want to do roles that are twice their age. It may have taken two years to get the right kind of opportunities. I feel 2012 is a good year for me. After Bol Bachchan I have I, Me Aur Main with John (Abraham). I think it's the role that will change people's perception about me. It's a young and very bohemian character.
Why do you think you were being offered older characters?
I think that happened because of the kind of work I have done before. I started from a daily soap. I moved on to do the cult film, Rock On!!. I did play a young wife in the film, but nobody saw me as funky or even the real me. So I think people wanted to play safe and capitalise on something that had already worked for me.
Are you an ambitious person?
I think every actor has to be ambitious, otherwise you can't be in this industry. I am ambitious, but not over ambitious. I know how much I want to do and the things I don't want to do. I am just taking it that way. Let's see how it goes.
Where do you see yourself five years from now?
I hope I do at least 25 more films by then.
During the initial years of your career you had said that you wouldn't wear a bikini or do intimate scenes onscreen. Do you still maintain that?
When people ask me about it, I want to ask where I said such things, 'coz I don't remember being quoted on that. Unfortunately, at that time I just chose to keep mum, that's why people went around writing whatever they felt like. I came from a certain set-up and people had certain perceptions about what's okay with me and not okay with me. What I would say is that I would do every role that I am comfortable doing. I don't think I can define what I can do and what I can't do. I never thought I'll do comedy, but I am doing in Rohit Shetty's film. It's as simple as that. Also, I think time and experience play a big role in a person's life.
First Published: 10.25 AM IST 07.03.2012